Boone's Blue Ridge Craft Trails
There are nearly a dozen working craft galleries around Boone highlighted on the Blue Ridge Craft Trails, all of which exhibit heritage crafts created using skills passed down from one generation to the next. Unique artistic talents like these often showcase the beauty of the Blue Ridge Mountains in their work. The artists can even be found working on their next creations at the galleries and many are happy to stop and chat with a curious passerby.
Follow along with Explore Boone's 3-day craft trail itinerary below and revel in inspiring viewpoints, exquisite art, and well-crafted cuisine. 
Day 1 – Enter the Heart of the High Country
Find your way to the town of Boone to start your exploration of craft in the area. The downtown area is a host to several galleries on the trail, delicious restaurants, and other local shops. Stop in at the Jones House Cultural Center for visitor information and to tour the small rotating Mazie Jones Gallery inside. The historic home is situated atop a hill in downtown Boone, offering a great vantage point of the next two stops on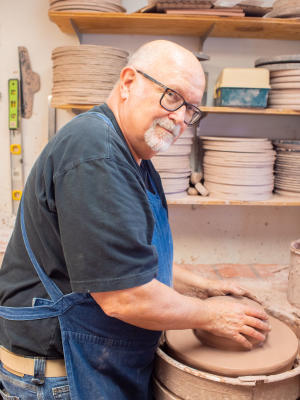 the Blue Ridge Craft Trails, just across King Street: Doe Ridge Pottery and Hands Gallery. Both galleries hold aesthetic and functional pottery pieces created by exclusively local and regional artists. A short walk will take you to Appalachian State University's Turchin Center for the Visual Arts, which features works from international, national, and regional artists.
Don't miss the opportunity to dine in downtown Boone - no matter the time of day when you arrive:
Once you've had your fill of craft for the day, check out the Appalachian Theatre's schedule for an upcoming matinee or evening show to enjoy. The art deco architecture and retro décor inside are a beautiful nod to the rich history of the 1929 Boone landmark.
Day 2 – Stroll through the Sights in Blowing Rock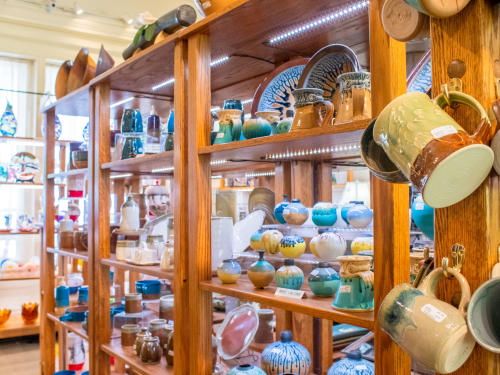 Grab a coffee from a local shop to fuel up and get the day started. Moses H. Cone Memorial Park is the day's first stop on the Craft Trails. The park is covered in historic carriage trails through old apple orchards, rolling hills, and several stocked fishing ponds. The Southern Highlands Craft Guild gallery (open April - November) inside the Moses Cone Manor holds hundreds of delicate crafts from artists all throughout the region.
After a lovely morning stroll at the park, head to Blowing Rock's downtown for lunch at a local favorite, like the Speckled Trout or Bistro Roca. Both are within walking distance of the two other galleries on the agenda for the day. Katherine Lile's Mountain Thread Company is a unique gallery and shop selling stitched rope baskets and DIY kits. Pick up a copy of Lile's book: Zigzag Rope Sewing Projects to learn the intricacies of her craft. 
A little further down Main Street is the Blowing Rock Art & History Museum. The museum is always free to enter and displays several rotating and permanent exhibits. Look ahead on their calendar to plan your visit around an artist talk, a family-friendly crafting event, and more fascinating programming.
Make dinner reservations at Café Violette if you'd like to continue your art-filled day with artistic and delicious Mediterranean cuisine. 
Day 3 - Head to Cove Creek & Grandfather
Wake up and head to breakfast to prepare for the final day on Boone's Blue Ridge Craft Trails. Capozzoli Guitar Company is a little different from the other galleries you'll have visited at this point. Chris Capozzoli is a luthier & craftsman who incorporates reclaimed barn wood and cross sections from the old Tweetsie Railroad in his creations. This working gallery features many of his guitars and furniture creations in various states of completion. 
After exploring the final gallery on the itinerary, head to Valle Crucis for lunch via Highway 194. It may be a good idea to make a reservation at Over Yonder, a popular restaurant situated in a historic home in the scenic valley. The Original Mast General Store and Annex, just across the road are worth a stop, as well, for any essentials or outdoor recreation needs.
Continue on in the same direction down Highway 194 (which turns into Broadstone road about this point), and turn right onto Highway 105 to head towards Grandfather Mountain (Reservations required). Drive to the top and cross the Mile High Swinging Bridge for phenomenal 360-degree views of the region. Visit the top-shop photo gallery, hike some of the trails, see natural animal habitats, and learn about the ecosystem in the nature museum to round out your trip.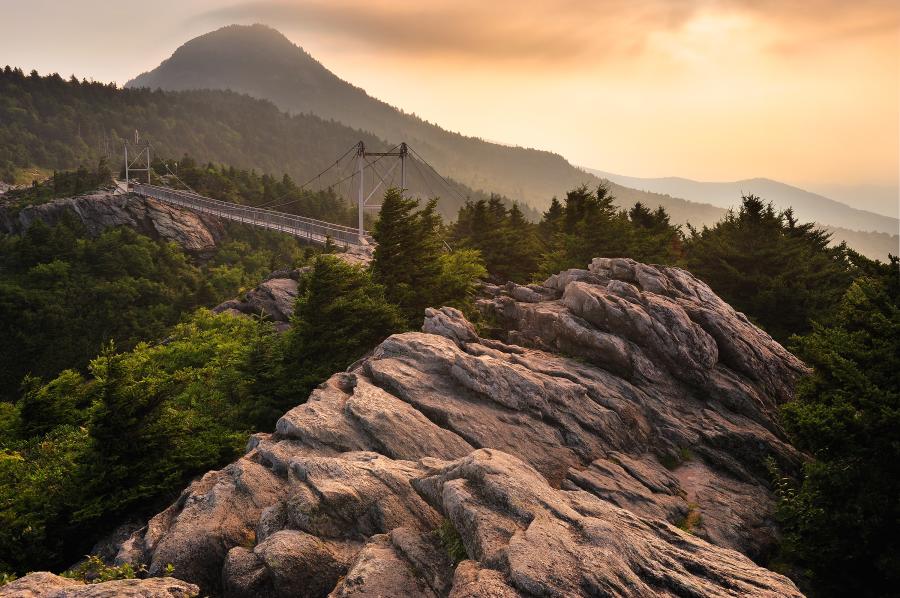 Start planning your trip to explore Boone's Blue Ridge Craft Trails by booking an area Hotel or Cabin.