Choose & Cut Christmas Trees
An American tradition still alive in the High Country
Choosing your own Christmas tree from a Boone Area tree farm is a memorable experience for the entire family. In the Boone Area everyone can find beautiful Fraser Fir trees, the nation's most prized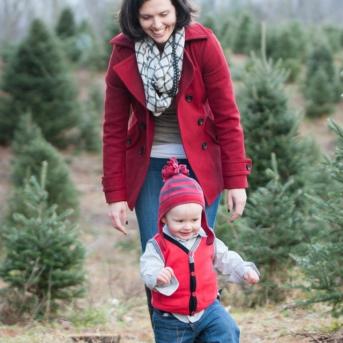 Christmas tree, native only to the High Country of northwestern North Carolina and adjacent summits.  
Travel to growers' farms to choose among the freshest trees from tiny to towering, and find beautiful wreaths, roping, and boughs. Some farms offer Christmas-themed crafts and gifts, hot cocoa or cider, cookies, hayrides, farm animals to pet, antique machinery to admire, and spectacular views. High Country tree farmers will also to ship their perfectly proportioned trees all over the world - but the Choose & Cut tradition of old is still alive and well - and close to home in the Boone area. 
Find holiday concerts, parades, Santa visits, alpaca farm tours, and winter attractions to round out your visit. There is a lot going on in the Boone area and many of the surrounding hamlets, including Beech Mountain, Blowing Rock, Valle Crucis and Seven Devils. Visit our holiday calendar here or call us at 828-266-1345. 
Choose and Cut Tree Farms in the Boone area:
2021 Choose and Cut Schedule: November 19. Open 7 days a week. 9 a.m. – 5 p.m. Fraser Fir (all sizes up to 18'). Fraser Fir wreaths....
2021 Schedule: November 13 – December 18. Open Daily, 9:00 – 5:00. Fraser fir trees (tabletop -10'), wreaths, and garlands....