Grandfather Mountain
The area's premier natural attraction entertains, informs, and inspires
NATURE ON A WHOLE DIFFERENT LEVEL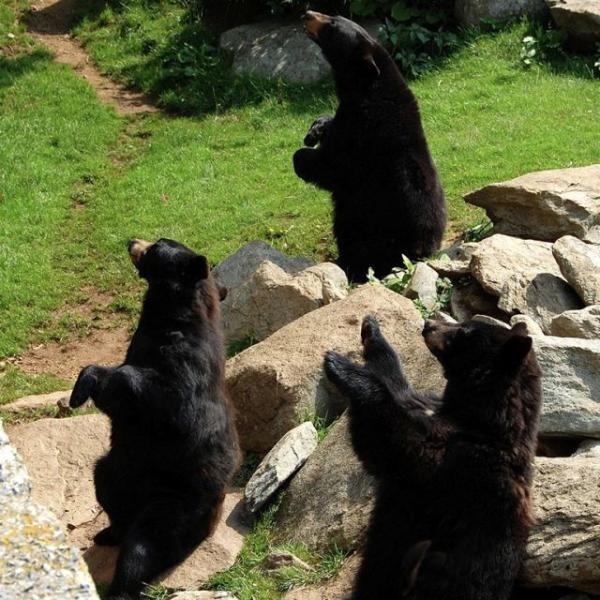 Grandfather Mountain is the one of the tallest mountains in the Blue Ridge mountain range, which hosts a UNESCO International Biosphere Reserve, and the privately owned attraction represents non-profit preservation at its loftiest. 
A spectacular drive into the attraction (admission fee & reservations required) takes visitors to the wheelchair-accessible Mile-High Swinging Bridge, thousands of feet above the Carolina Piedmont. You'll marvel at 360-degree views of mountain ridge after mountain ridge retreating to the distant horizon. Surveys show that the journey to the other side is always the highlight of a trip to Grandfather Mountain. Picnic tables can be found along the drive up to the top, so don't forget to pack a picnic & enjoy the scenery.
Grandfather's Wilson Center for Nature Discovery possesses world-class exhibits and films on geology, flora, and fauna. The mountain also offers many different interpretive programs, and Environmental Habitats for elk, bears, cougars, eagles, and otters. 
Awesome trails with varying levels of difficulty lead to high adventure. 
THE "GRANDDADDY" OF BOONE AREA HIKES
Hike to the mountain's highest point: Calloway Peak, starting from the Grandfather Mountain Entrance on Highway 221. Park just below the top of the road where you'll take the Grandfather Extension Trail (this is where the Black Rock Nature Trail Starts). This strenuous and technical trail enters the state park and ascends up the cliffs and rocky crags of the mountain, requiring the use of ladders and cables.
Turn right at the Grandfather Trail and follow the summit ridge through the tiny meadows covered in boulders, as well as Spruce and Fir forests. The summit is a massive boulder perched on the knife-edge ridge reached by another ladder. Descend into the next gap and go left on the cool, mossy, and rocky Underwood Trail for a 2-mile hike back to your car.  
learn more
Be inspired by the views from the highest point in the Blue Ridge and escape to a nature sanctuary of global importance. Cross the famous Mile High Swinging Bridge, photograph native wildlife in natural habitats and hike some of...
let's go
Grandfather Mountain is a North Carolina icon offering stunning scenery and unmatched ecological diversity. This state park opens the mountain's 2,456-acre backcountry to the most spectacular, albeit the most strenuous, hiking and...
let's go