Waterfalls
Boone area's world-class waterfalls!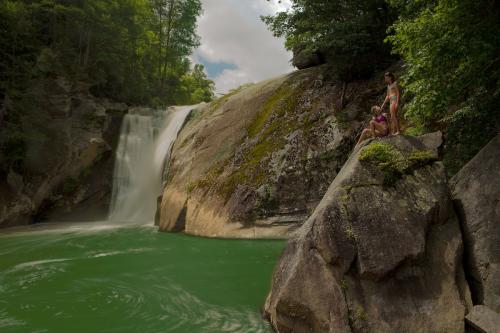 Finding and photographing waterfalls is one of the most popular ways to soak up the spectacular scenery of the North Carolina High Country. Spring is the perfect time to catch these cascades at their gushing best, while in winter, the falls are sometimes frozen for unique photo-ops.
The Boone Area is home to the East's highest mountains and a truly astounding number of places to revel in the sight and sound of cascading water. Best of all, the choices include significant cataracts reached by short, easy trails that anyone can tackle.
Check out the waterfall directory below, click on our Hiking section, or let the links at the bottom of this page take you to complete trail guides for the High Country's best waterfall walks.
Caution: Waterfalls can be extremely dangerous if you don't follow common-sense rules. Every year in the United States, people die falling from cascades in state parks, national parks, national forests, and on private land. Always stay within the designated trailside viewing area of a waterfall. Never climb on the often slippery rocks anywhere near a waterfall, especially at the top. Mossy green rocks look slippery-but even rocks that appear dry can be very slick. Parents: Please watch children and keep pets on a leash.
TRY THESE IN-DEPTH WATERFALL TRAIL GUIDES
Crabtree Falls - Regarded by many as the Southern Appalachians' prettiest, most iconic cascade.
Glen Burney Falls - Take the Glen Burney Trail from the village streets of Blowing Rock down into a cascade-filled "glen" of remarkable beauty. A perfect picnic hike.
Linville Falls - The biggest waterfall on the Blue Ridge Parkway by volume of water.
The Cascades - A short walk with interpretive signs that explores forest tree species and leads to where Falls Creek leaps off the Blue Ridge. Historic cabins are part of one hike here.