Beech Mountain Resort
The 5,506-foot summit of the resort rises higher than any ski resort east of the Rockies!
Beech Mountain's appeal begins with elevation. The 5,506-foot summit of Beech Mountain Resort rises higher than any ski resort east of the Rockies, and the town of Beech Mountain is the East's highest municipality. The mountain can get 80 to 100 inches of snow annually and clear-day views stretch across Tennessee and north to Virginia. In addition to natural snow, Beech Mountain greatly enhanced its snowmaking system in the last few years.
Beginner learning areas include wide open freestyle, served by two double chairs.  A high-speed detachable quad chairlift soars to the summit and serves the mountain's entire 830 feet of vertical feet drop. Popular intermediate slopes Upper and Lower Shawneehaw dip from the peak, the lower part served by its own chairlift. Upper and Lower Robbins' Run (intermediate) and expert Southern Star plummet down across the steeper face of Beech. Another double chair to the top flanks those slopes.
White Lightning is the really steep run at Beech. The slope starts at the top and drops gently at first, then gets steep enough to produce those butterflies in the stomach. The almost endless view adds to the effect. A double chairlift serves this expert slope. West Bowl is something completely different. From the summit, a quad chairlift dips off the back of the mountain serving this favorite intermediate slope. Vistas reach distant Mount Mitchell and the nearby summits of the Appalachian Trail (Click here for a Beech Mtn Ski Trail Map).
An exciting terrain park entices snowboarders and freestyle skiers. Beech Mountain Resort maintains a large, Professional Ski Instructors of America ski school with an adaptive ski program.
Beech is all about atmosphere. A picturesque alpine village and shops surround the base of the slopes. The Beech Tree is a favorite for food and drinks, and the slope-side Viewhaus Cafeteria offers a fine view and a huge, sunny porch.  Beech Mountain also has another amenity for guests - a sky bar providing food and beverage service at the top of the mountain. The summit facility named 5506' pays tribute to the elevation that gives them the title of the highest ski area in eastern America. 5506' Sky Bar can only be accessed by ski lift.
Special events add to the fun. Check their calendar for what's new on the schedule, from live music to costume contests and more.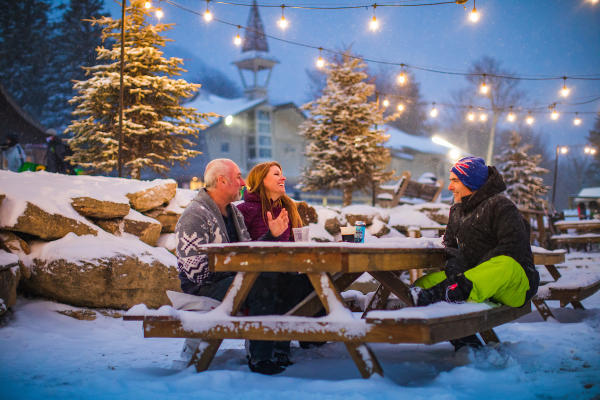 BEECH MOUNTAIN RESORT
ADDRESS:
1007 Beech Mountain Parkway, Beech Mountain, North Carolina 28604
CONTACT:
(828) 387-2011
(800) 438-2093
info@skibeech.com