Tweetsie Railroad
The High Country's Premier Family Fun Park 
THE HIGH COUNTRY'S NUMBER ONE FOR FAMILY FUN
Tweetsie has been the High Country's premier family fun park for almost 6 decades and features a Western-themed ride on an authentic steam train. In fact, Tweetsie was the Boone Area's first high-tech link to the outside world from the late 1800s to the 1940 Flood. Engine #12 is listed on the National Register of Historic Places. 
Early residents named the historic train "Tweetsie" for its shrill whistle. The train takes its passengers on an exciting adventure and follows a 3-mile loop, crosses a trestle, circles a mountain, and encounters robbers and Indians on the way back to a diverse assortment of rides and entertaining options that include great old-time live music.
ENTERTAINMENT AT TWEETSIE: 
Tweetsie Railroad has two trains and a Chairlift to Miner's Mountain which features rides such as a Carousel, a Free Fall, a Ferris Wheel, Planes and Helicopters, Round Up, Tilt-A-Whirl, Tornado, Turnpike Cruisers, Boats, F-80 Jet Planes, Mouse Mine Train, Tweetsie Twister and much more!
Tweetsie also hosts great events for kids such as Thomas the Tank Engine and October's Ghost Train.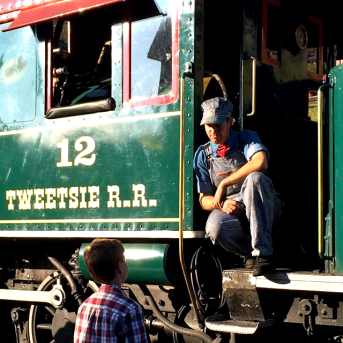 Wild West family theme park featuring a three-mile, steam-powered train ride through the North Carolina mountains. Shopping, live entertainment, amusement rides and a petting zoo. Ghost Train Halloween Festival runs weekend evenings in October. Please call ahead to verify operating hours and rates,...
let's go