Top Ten Overlooks
Locals' list of the best Boone area views
On the Parkway
GRANDFATHER MOUNTAIN
You can't go wrong looking out on any season from the Mile-High Swinging Bridge or the ladder-climbing trails that cross the crest of Grandfather Mountain State Park. The Grandfather Mountain portion of the Parkway boasts some of the area's earliest fall colors.
STACK ROCK PARKING AREA AND ROUGH RIDGE
At Milepost 304.8, this parking area seems bordered by trees, but stroll the side of the Parkway a hundred feet north and "Wow!" You're looking way down on the Pisgah National Forest's multi-hued ridges from 4,286 feet. Or park at Milepost 302.8 and take the short walk from Rough Ridge Parking Area to amazing boardwalk vistas.
BEACON HEIGHTS TRAIL
Also on Grandfather's flank, the moderate Beacon Heights Trail, at Milepost 305.2, is an easy walk to a great view. It's just 0.3-mile (about 0.7-mile round-trip) to rocky domes that also look down on Pisgah National Forest's rippling lowlands.
BASS LAKE 
In Blowing Rock, pull into the Bass Lake Parking Area of Moses Cone Park from US 221 and the lake can be a dazzling fall experience. Some people just pull out folding chairs and soak up the scenery. Others walk the easy mile around the lake. The lake is often frozen in winter, and cross-country skiers glide along the path. To look down on the scene, drive to Cone Manor (Milepost 294.0) and survey the vista from the porch or trail out front.
JULIAN PRICE LAKE
A local's favorite stop on the Blue Ridge Parkway, this picturesque man-made reservoir is a popular stop for motorists to stretch their legs at. Rent a kayak, canoe, or stand-up paddle board from Price Lake Boat Rentals at Parkway Milepost 297 to get in the water - no swimming is permitted. Hikers can also take the easy 2.7-mile loop along the lake, enjoying incredible views all the way around. 
THUNDER HILL OVERLOOK 
At Milepost 290.4 north of Blowing Rock, the expansive view from the roadside Thunder Hill Overlook plummets east to the Piedmont from 3,795 feet. For a breezy, even bigger picture perspective, cross the Parkway to the nearby hilltop. 
Off the Parkway
This 5,500-foot mountain, a recent state park just 11 miles north of Boone, has a nearly 2-mile out-and-back trail (moderately strenuous, but gradual) that reaches a knock-your-socks-off summit view. North lies Virginia's highest peak, Mount Rogers. Mount Mitchell, East's loftiest, soars to the south, along with Grandfather Mountain and the East's highest ski areas, Beech Mountain and Sugar Mountain. This park is all about winter, so bring your snowshoes then!
Howard's Knob Park is a six-acre county park located 4,396 feet above sea level, atop Howard's Knob Peak, overlooking the town of Boone. The park is free to access from May - October, from sunrise to sunset. (Please do not park outside the gates). Portable restrooms, a picnic shelter, and dispersed picnic sites are found throughout. Howard's Knob Park will soon undergo renovations to make the walking paths and overlook accessible to all! 
An iconic Blue Ridge view with a fascinating natural and cultural history. The unique geologic formation is accessed through a gift shop with information about the legend surrounding the Rock. Visit the privately-owned attraction for a small fee with the whole family (well-behaved pets included), and take a short walking path to an observation tower with 360-degree views. 
Boone's paved greenway trail winds into a hidden valley. When the town disappears, hikers and bikers are surrounded by colorful scenes as they wander along the South Fork of the New River. This perfect family destination offers many picnic sites and even the historic ruins of the early 1900's first hydroelectric generation station in the northwestern mountains.
Remember to "Leave No Trace" when recreating outdoors by planning ahead, staying on designated trails, respecting wildlife, packing out any trash, practicing fire safety, and being respectful of others.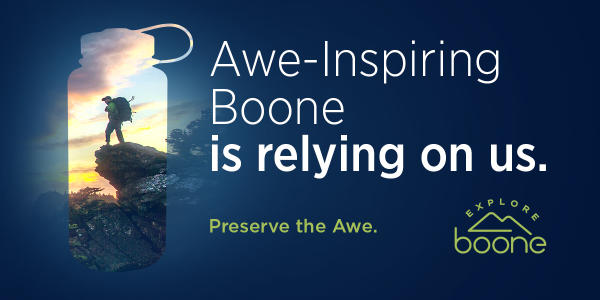 Learn more about how to help preserve the awe-inspiring environment around Boone!