In a town known for its outdoor adventures and state university, it's no surprise that the caffeine scene is robust.
What is surprising is the sheer number of craft coffee roasters within the town's six square miles, each with its own atmosphere and story. Add in the coffee shops and a unique java experience can be enjoyed every morning for two weeks! Seriously, we love coffee here. But let's start at the beginning...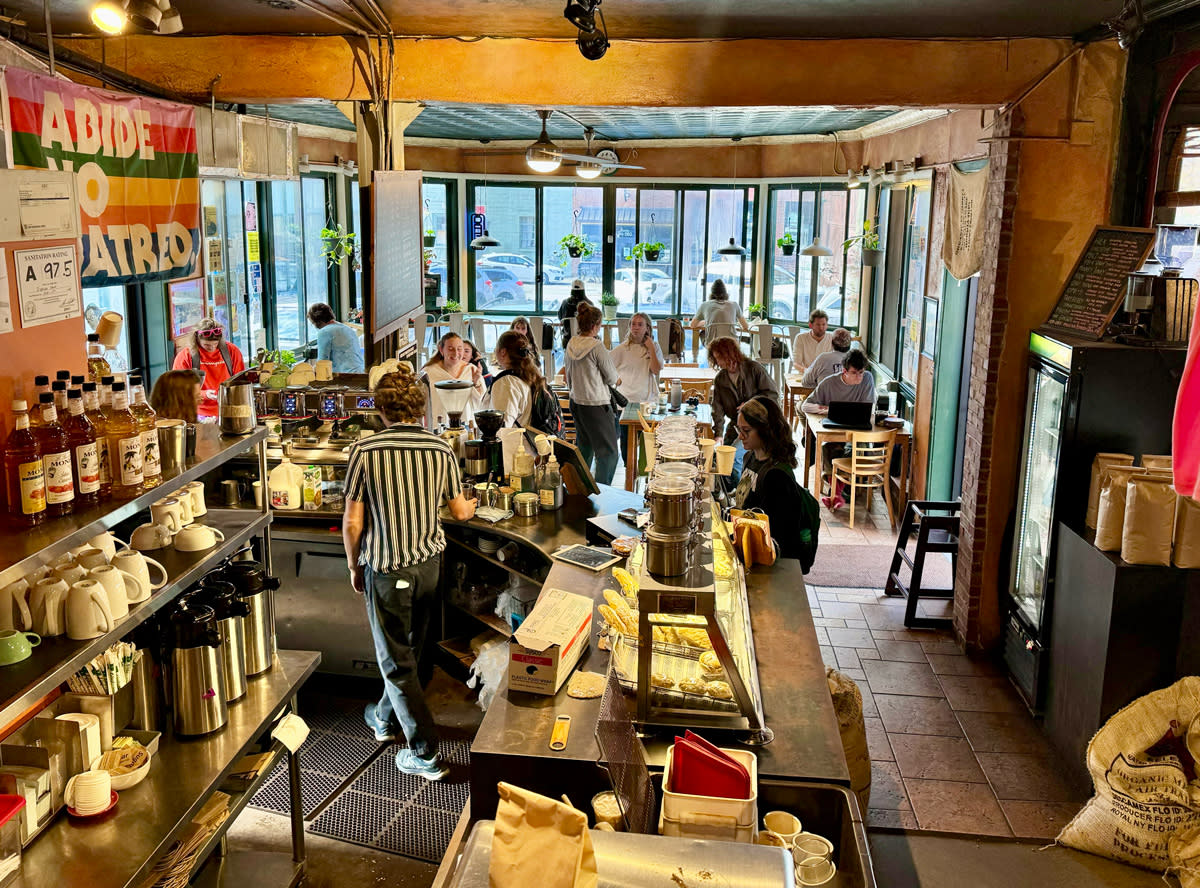 Espresso News
Espresso News (or E-News to the locals) is Boone's oldest coffee shop, founded by Mark DeBroder and Teresa Webb in 1994. Tucked behind Footsloggers and Rock Dimensions, most would never notice this gem on Howard Street without having heard of it first. The ground-level coffee counter and seating area offer a glimpse into the bohemian vibes of this popular café, while a walk upstairs reveals a charming study area with several cozy nooks. E-News roasts its beans in-house daily and in small batches to ensure quality flavor, but also offers various teas, ready-to-eat foods, and a selection of prepackaged beverages.
Conrad's Coffee Company
Poe Conrad started Conrad's Coffee Company in 1999 after sampling different brews from around the world during his work travels. Today, Boone's second-oldest roastery has since closed its public coffee shop but still supplies some of the on-campus cafés at Appalachian State University and nearly two dozen coffee varieties are available for purchase via their online storefront.
Bald Guy Brew
Owner and master-roaster Don Cox (aka the "Bald Guy") first fell in love with this area, as many do, while attending Appalachian State University in the 1980s. Fast-forward to 2005, when Don pulled his USDA-approved biodiesel, solar-panel van into the parking lot of the Watauga County Farmers' Market and started roasting coffee out of the back. Today, you can find the Bald Guy in his open-air roastery and café on any given morning in East Boone, roasting coffee and chatting with regulars. From the inviting porch area to the communal table inside, the low-key, warm atmosphere at Bald Guy Brew is a wonderful place to kick off a day of Appalachian adventures. You can also find Bald Guy coffee at Reid's Café in Banner Elk, in downtown Blowing Rock, and seasonally at the Watauga County Farmers' Market.
Local Lion
With its convenient location off of Blowing Rock Road, the Local Lion is one of those eye-catching storefronts that draw you in with a promise of great mountain-roasted coffee and house-made doughnuts. Owners Josiah and Meredith Davis opened this small-batch craft roastery in 2012, successfully becoming Boone's first drive-through coffee shop and scratch-made doughnut bakery. The doughnuts are worth the acclaim on their own, created using their signature 1930s potato recipe that results in soft, delicious doughnuts with seasonal flavors to accompany their expertly crafted espresso drinks. Recently, they've embarked on roasting a different type of bean – cacao beans – at Venture Chocolate + Wine Co. in downtown Boone, where visitors can sample artisanal truffles alongside a fresh cup of joe or a glass of wine in the cellar downstairs. 

Hatchet Coffee
Located steps away from Boone's premier indoor climbing gym, it's no surprise that Hatchet Coffee's ethos is rooted in outdoor adventure. While working at Stick Boy Bread Co., founders Jeremy Bollman and Jeremy Parnell bonded over their shared passion for quality West Coast-style coffee. After beginning their roasting journey in 2015, Hatchet quickly grew into a small café in Center 45 in East Boone. With organic outreach at popular recreation events that take place in Boone, like the Triple Crown Bouldering Series and the Blood, Sweat, and Gears bike race, Hatchet garnered lifelong fans across the High Country. Today, you can find Hatchet headquartered at an even larger, welcoming space on the other side of the climbing gym, with ample seating and a cheerful gift section that greets visitors. As one of Boone's most popular roasteries, numerous restaurants and coffee shops are using Hatchet's wholesale blends such as Blue Deer, Stick Boy, and Wildwood Community Market, among others.  
---
In Boone, where the adventurous spirit of outdoor exploration and academic pursuit thrives, the vibrant coffee culture serves as the perfect fuel for students, locals, and nature enthusiasts. With a multitude of unique coffee roasters and cozy shops nestled within this picturesque town, it has never been easier to get energized for the journey ahead.