We're avid animal lovers here in the Boone Area and firmly believe that furry friends need a vacation just like the rest of us! Follow this guide to discover the wealth of enjoyment that will be had when you embark on a floof-friendly adventure to Boone. Scroll to the bottom of this page to find a list of off-leash dog parks, as well as dog-friendly restaurants, shops, and lodging. 
Gearing Up
Make sure to stock up on any essentials before venturing out, whether you're hitting the trails or making stops on the High Country Wine Trail. Animal basics can be found at The Pet Place, a locally-owned pet store with last-minute trip necessities like bags, raincoats, leashes and treats. Bring your pup along when you browse the shelves at  Mast General Store in downtown Boone for dog toys and outdoor gear, in addition to human treats, clothes and supplies. Also downtown is Footsloggers, a dog-friendly outfitter with shoes and essential outdoor equipment. 
The Blue Ridge Parkway
Adventurous canines won't want to miss out on a stay in Boone, where waterfalls, mountain streams, lakes, and vistas are all around. They'll experience the true joy of sticking their heads out of the window on the Blue Ridge Parkway and exploring overlooks, hiking trails and fishing spots along the way.
A stop at Julian Price Lake at milepost 297 on the Blue Ridge Parkway could allow for a 1.9-mile loop around the lake or an afternoon catching trout, surrounded by colorful rhododendron blooms from May to July. Price Lake Boat Rentals offers canoe and kayak rentals by the hour, and dogs are welcome to hop in the boat and join you. Moses H. Cone Memorial Park at milepost 294 features miles of carriage trails perfect for a stroll with the pooch through apple orchards and fields, around one of the stocked lakes, or to the Flat Top Manor house (currently under renovation in 2021).
Further south on the Blue Ridge Parkway, at milepost 316.4, is Linville Falls. The largest waterfall by volume of water on the Parkway, this thunderous landmark can be viewed from easy or strenuous trails all the way to the basin. Dogs are welcome to accompany their companions, on a leash, to either of these overlooks or all the way down to the base of the falls.
Hiking Elsewhere
The Blue Ridge Parkway isn't the only place to enjoy incredible views, water features and fresh mountain air with your furry friends. The Boone Greenway is a great place to get outside and see nature, right in Boone's town limits. The path follows the headwaters of the New River, weaves around meadows and wetlands, historic hydroelectric station ruins, picnic tables, and through covered bridges. To the northwest of Boone is Elk Knob State Park, where dogs and their owners can climb to the top to view 360 degrees of incredible mountain vistas.
Tour a Historic Valley Town
Valle Crucis is a small scenic town that should not be missed by anyone visiting the High Country, but especially those with friendly dogs. The Original Mast General Store is a wonderful place to get provisions for both people and pups. From outdoor gear to the old-timey sweets found at the candy barrel, the Mast General Store has a lot of great merchandise to explore, including hiking gear and toys for man's best friend! Just across the street in a farmhouse built in 1816 with a wrap-around porch for pups to enjoy, is Over Yonder Restaurant and Fresh Market. Nearby, Valle Crucis Community Park has playgrounds, covered picnic shelters, and river access for fly fishing, playing, paddling, and floating, everything the family - including the pets - could want. The park does instate a small parking fee during the peak summer months and operates on donations for the rest of the year.
Always remember to follow Leave No Trace principles when enjoying the outdoors with pets. Learn more about "How to be a Responsible Pet Owner" outside with the Leave No Trace Center for Outdoor Ethics (LNT.org).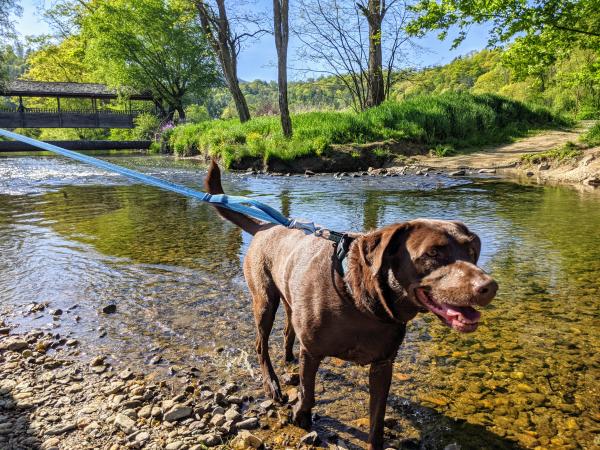 Trying out the waters of the New River at Boone Greenway
Boone Area Restaurants with Pet-Friendly Patios
Breakfast
Lunch and Dinner
Beverages & Bites
Off-Leash Dog Parks in the Boone Area
Arko Dog Park at the Watauga Humane Society
Beech Mountain Bark Park
Tate-Evans Park in Banner Elk
Pet-Friendly Shops
Pet-Friendly Accommodations