As the weather begins to warm across the state, Boone's pleasant, high-elevation climate provides some of the Southeast's coolest temperatures. When the rest of North Carolina's average highs reach a sweltering 91ºF, the Boone area offers a welcome reprieve with average highs around 78ºF. This creates a lush paradise for outdoor lovers and leisure seekers to enjoy the season's longer days with unforgettable High Country adventures. So set that out-of-office message and embark on your next Appalachian adventure!
Jump to:
---
✓ Discover a Nearby Waterfall
Some of the East's highest mountains paired with the regular rainfall of a temperate rainforest create astonishing cascades just minutes from downtown Boone. For casual outdoorsmen, we recommend taking the 1-mile out-and-back trail that leads to Crab Orchard Falls in Valle Crucis (and we suggest making a stop at the Original Mast Store while you're there). Avid adventurers may be inclined to take on the advanced trail systems at breathtaking Linville Falls or bound amongst the boulders of Hebron Falls.
✓ Soak Up the Sun(rise)
Some early-morning effort is required for this one, but awe-inducing views make it worth every yawn. Vivid hues of pink, orange, and red provide a near-spiritual experience to those willing to set the 5 AM alarm. Keep it simple with a drive to Thunder Hill Overlook or Caldwell Community College (pictured below) where the gradual morning light can be enjoyed from the comfort of your own car.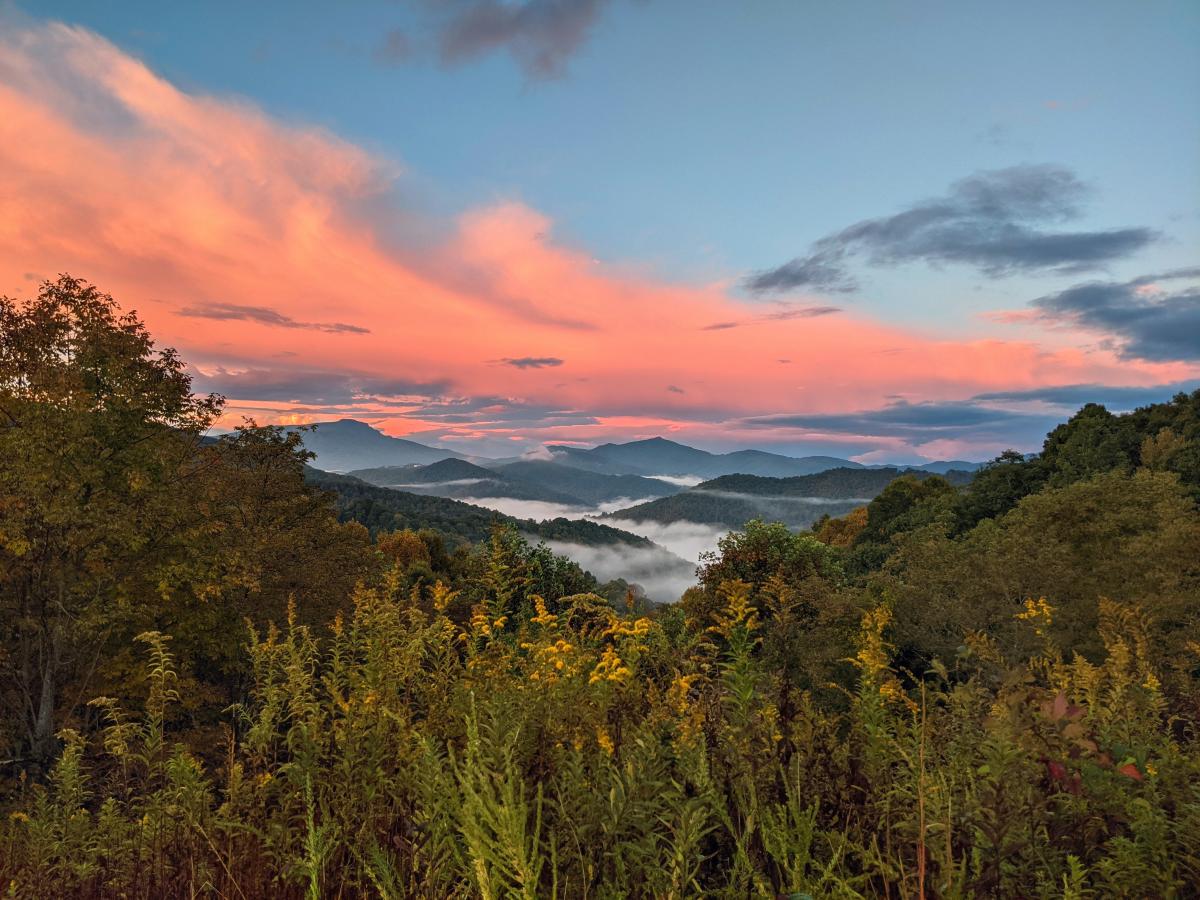 ✓ Find Yourself in the Wild
This year has been proclaimed North Carolina's Year of the Trail and the Boone area has hundreds of options to get lost (metaphorically, of course) and connect with the pristine Appalachian wilderness. Virtually untouched ecology can be found in one of only two wilderness gorges in the Southern United States, the Linville Gorge. Grandfather Mountain and Elk Knob State Parks also boast unique ecological wonders waiting to be discovered. For outside-the-box thrill seekers, an aerial tour of our lush summer environment may be just the ticket. 
✓ Stay Cool at the River
On those rare 80º days, there's no better place to kick back & relax than by a cool mountain stream. Plentiful water activities can be found on both the Watauga and New Rivers, from paddle boarding to whitewater rafting. Dive into our New River Paddle Trail map to plan out a peaceful float or kayaking journey. Wind down on the banks of the Watauga River with a glass of wine in hand at Grandfather Vineyard, or make a weekend of it with our Wineries & Waterfalls itinerary. 
✓ Experience the Live Music Scene 
In a small town with a legendary musical history (ever heard of Doc Watson?), the sweet sounds of live music spill onto the street from downtown venues throughout the summer. There are more opportunities for music lovers than ever before in the High Country, from the signature Boonerang Music and Arts Festival to the Doc & Rosa Lee Watson MusicFest. Whatever you have an ear for, it's always good to keep an eye on our events page for the latest information. 
✓ Tempt Your Tastebuds
Perhaps the High Country's best-kept secret, locally-sourced dining has been the standard in Boone long before the trend became mainstream. Many area restaurants feature seasonal menus that are locally sourced, but globally inspired. Whether you're looking for an upscale dinner with sunset views, al fresco options, or just want to go where the locals go, you're sure to find ingredients sourced from nearby farms. 
✓ Enjoy a Locally-Crafted Beverage
When you combine the enthusiasm of Appalachian State's Fermentation Science program graduates with our year-round population of outdoor enthusiasts, you end up with award-winning breweries and wineries sprinkled throughout the area. And we're not complaining! Sip on locally-crafted libations with views of Grandfather Mountain, hang with the 'Squatch Guard' for a pregame tailgate in a river-adjacent beer garden, or take in downtown sights and sounds with a lively gastropub.  
✓ Give Back to the Community
Volunteering is hands-down the best way to immerse yourself in the hospitable culture of the High Country. Take RiverGirl's Trashy Tuesdays, for example, when you can "give back to the river" during the first Tuesday of each month. In exchange for collecting trash from the South Fork, kayaks and canoes are free to use. The individual who collects the most trash receives a free fly-fishing lesson, while the person who finds the most unique item wins a T-shirt. We know finding out the best ways to give back may seem daunting as a visitor, so we've compiled a handy list for you to reference! 
✓ Stay Somewhere Uniquely Boone
From treehouse domes for summertime stargazing to upscale resorts with full-service spas, there are so many lodging options to choose from in the area. Browse for accommodations that suit your needs using our listing gallery!
---
While you fall in love with awe-inspiring Boone, you'll find plenty of reasons to preserve it. Make it your nature to follow the 7 Outdoor NC Principles while you're enjoying an epic summer in the Blue Ridge Mountains. And don't forget to share your adventures on Instagram using the hashtag #ExploreBoone!