Biking + Beers + Boone = The Perfect Summer Adventure
With the nationwide explosion of craft brewing, North Carolina has become home to the largest number of craft breweries in the American South. This beer revolution made its way to Boone in 2013 when Appalachian Mountain Brewery first opened its doors and quickly brought home gold at the US Open Beer Championships with their ever-popular Boone Creek Blonde.
Nowadays, this eclectic mountain town boasts three breweries within a bike-able two-mile radius of downtown, not to mention another three in the surrounding area, making Boone an ideal basecamp for beer enthusiasts nationwide. The town also hosts the High Country Beer Festival each year, attracting brewers and visitors from across the United States. 
What better way to sample Boone's best beer offerings than to pedal amongst the breathtaking beauty of an Appalachian paradise? Better yet, the High Country's average temperatures are about 10° cooler than our neighbors at lower elevations, making for quite the refreshing ride!
No Bike? No Worries!
Head to Magic Cycles for bikes, bike racks, and equipment rentals.
---
Start at the Brookshire Park parking area in East Boone where you can gear up and unload your bikes. If you're using a rented bicycle, the Brookshire Park loop is a prime location to calibrate your equipment before you head off. Our first stop is a short ride up Industrial Park Drive from Brookshire; pull into the gravel lot at the nearby sign for Booneshine Brewing Company and your adventure has begun. Cheers!
Booneshine is the perfect place to start your ride with a quick sample and some grub in their tasting room or beer garden. One of the newest in Boone, this brewing company has 15 of its beers available on tap in their expansive tasting room, as well as seasonal small-batch & 'Brewer's Choice' selections. 
From here, we'll continue down Industrial Park Drive and take a right onto US 421 S, heading into Downtown Boone.
Extend the Adventure:
For a tempting tease of what's to come, make a quick stop at the primary production facility of Lost Province near New Market Centre. Keep in mind that this cozy neighborhood taproom is only open to the public Friday through Sunday. 
This homebrew hobby-turned-brewpub made its downtown debut in August of 2014, quickly becoming a gathering place for the community. With over a dozen beers on tap, many of which are award-winning, it's easy to relax atop their two-story porch and enjoy the sights and sounds of the bustling mountain town.
Once you've had your fill of small-batch beer and wood-fired bites, continue south down Depot Street and take a left onto Rivers Street. Pedal through the beautiful campus of Appalachian State University and take a right onto US 321, heading towards Appalachian Mountain Brewery. 
The first brewery in Boone, AMB was founded on the principles of community philanthropy and sustainable brewing. In 2014, Appalachian Mountain Brewery expanded its brewhouse, began canning, opened the Farm 2 Flame food truck, and released its first ciders on draft. Snag a case of their flagship beer, the Long Leaf IPA, and they will plant a tree in partnership with the Long Leaf Alliance. Now almost a decade after opening, AMB's cans are available in stores across the state and over 120,000 trees have been planted.
One-Way Route Total:
4.4 miles
---
LOCAL BICYCLING OPPORTUNITIES: Boone Area Cyclists, Rocky Knob Mountain Bike Park, Cycling in the Boone Area, Blood Sweat and Gears Annual Ride
Bicycle riding is an inherently dangerous sport and riding your bicycle after you have been drinking should never be taken lightly. In the state of North Carolina, the conviction of a bicycle DWI is the same as a vehicle DWI, punishable by jail time, fines, and even driver's license suspension. Please use your best judgment and always supplement alcohol consumption with food and water.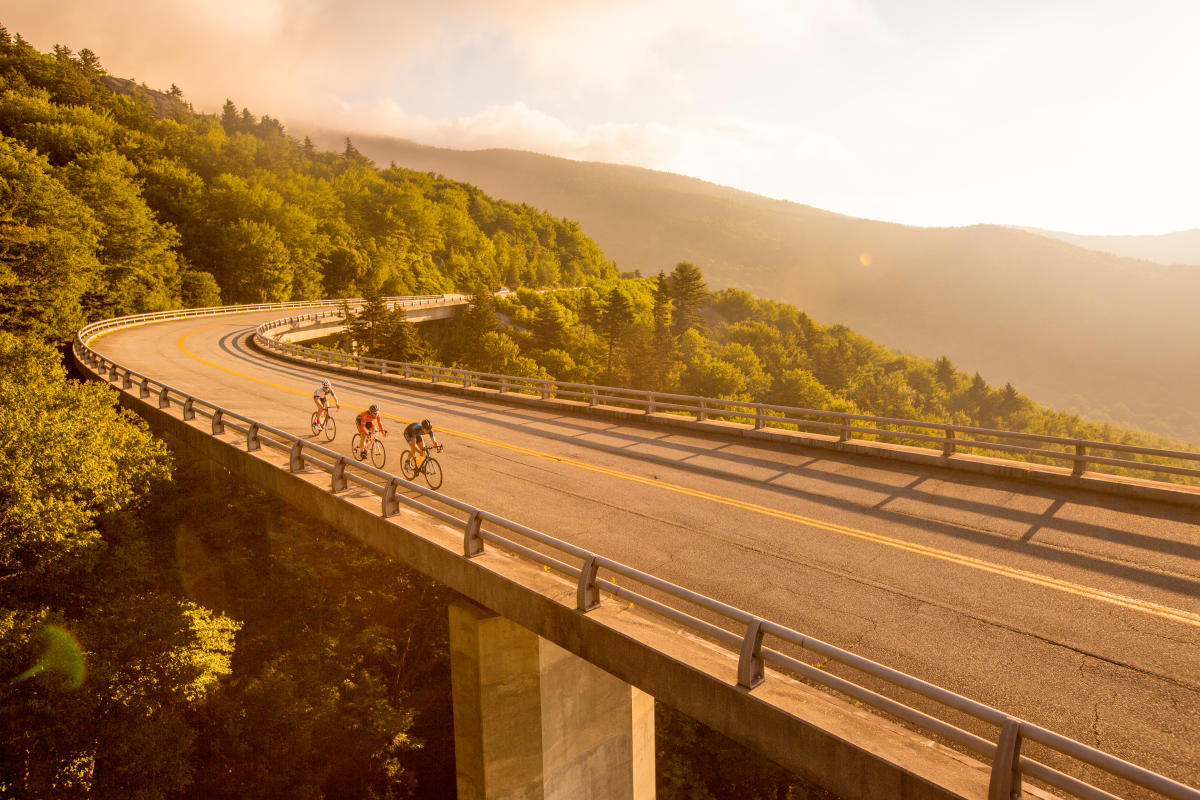 Check out our Interactive Map: