The raw beauty of the outdoors and endless adventures around Boone tend to attract lovers of awe-inspiring outdoor expeditions. No matter if you are a seasoned outdoors person seeking out adventure everywhere, or are newly falling in love with sights and sounds of nature, Boone delivers. Much of the Appalachian Mountains in this region are relatively undeveloped, allowing this environment to have high biodiversity and pristine air and water quality. There are so many things an individual can do, small and large, that make a HUGE difference in lowering their impact and taking care of these mountains for generations to come.
Below, find our tips for traveling around the Boone area as sustainably as possible:
Getting Around
There's no way around driving to get to the Boone area unless you're a cyclist traversing challenging mountain roads. Choosing to come to the area could mean skipping the air travel and taking a road trip - already a very sustainable choice. If flying into CLT or GSO, carpooling and ride-sharing can help cut back on emissions traveling the rest of the way.
Getting around in the town of Boone is easy, too. The AppalCART is a completely free bus system that goes throughout the town and even has a weekend route in the nearby village of Blowing Rock. Shuttles from rural parts of the county can also be arranged from AppalCART for a small fee. Electric vehicle drivers will find convenient charging stations throughout the county, so no need to worry about running out of juice. 
PRO TIP - When exploring Downtown Boone or Blowing Rock, take the first parking spot you see and walk around. There are plenty of delicious eateries and unique shopping experiences within walking distance. 
Find out more, and see our EV Charging Station Map, on our Transportation page.
Creative Accommodations
Most visitors choose to stay in a hotel or cabin when staying in the Boone area. If possible, opt for smaller-sized A-Frame cabins and tiny houses, which use less energy to heat and cool than larger accommodations. Another way to travel more sustainably is to look for rentals that rely on renewable energy like The Solar Farmhouse. Stay at a historic 1875 bed and breakfast, the Lovill House Inn, which focuses on sustainable details like energy-efficiency, plastic-free toiletries, and locally sourced breakfasts. The Inn is now able to run on 100% renewable energy, and was recently recognized by the NC Green Travel program at the highest level of environmental stewardship with three dogwood blossoms.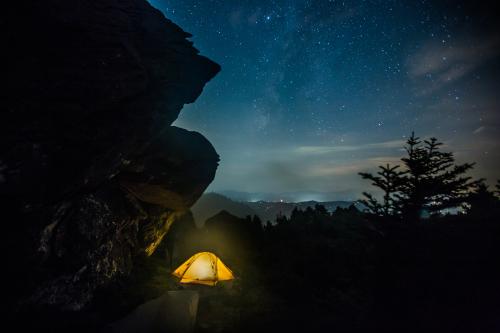 Try backpacking to a remote, off-the-beaten-path campsite in Grandfather Mountain State Park or Elk Knob State Park. Camping near your car is another fun option for the whole family to experience with any of Boone's uniquely beautiful campgrounds. Book a stay with Glamping Unplugged and truly unplug from your devices and connect with nature in a stylish geodesic dome. Or try glamping at the Boone Cocoon and rest assured you'll have a breathtaking night in a suspended treehouse.  
PRO TIP - Cut energy usage down wherever you stay by turning off all lights and electronics before leaving any accommodations.
What to Do
The eco-friendly activities are seemingly endless in the area. Boone is surrounded by fresh air, wildlife, abundant forests, and crisp, clean headwater streams. From hiking to scenic vistas, historic places, and waterfalls to zip-lining through the trees, here are some of our favorite environmentally conscious activities: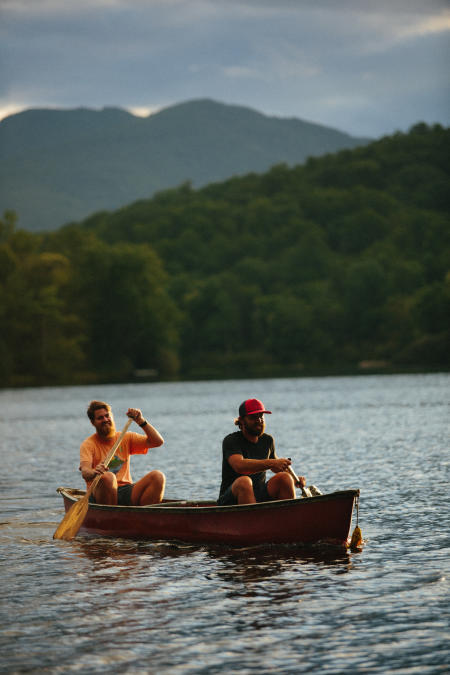 great activities all year long:
best to do in warmer months:
Be considerate of others enjoying public areas and practice Leave No Trace to keep these places around for generations to come. 
Brush up on the 7 principles of Leave No Trace here.
Eat Local
Fresh, locally-sourced food almost always tastes better than the alternative. Plus, using local ingredients for food saves on transportation costs, supports local farmers and ecological biodiversity, and encourages seasonal eating - all of which are huge benefits to a community and its environment. Here are a few of our picks for eating locally sourced ingredients from the Boone Area: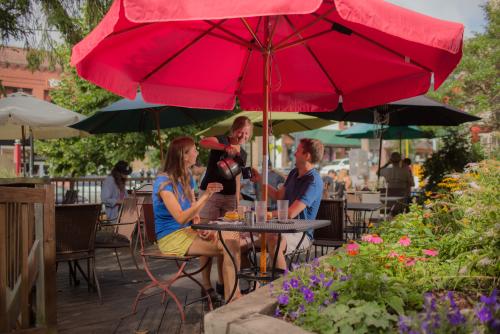 Melanie's Food Fantasy - No trip to Boone is complete without a stop-in for breakfast at Melanie's Food Fantasy (pictured). The downtown Boone restaurant is open for breakfast and lunch on their pet-friendly patio. Enjoy fresh-squeezed juices and organic coffee, farm-raised eggs, and lots of local produce in their tasty culinary creations. There is often a wait for breakfast on the weekends, as it's no secret how delicious Melanie's is.  
F.A.R.M. Café  - F.A.R.M. Café is a bright and cheery quick service spot right in the center of Boone's King Street. Expect a new themed meal every day, with fresh, seasonal vegetables, sustainably raised meats, and other local food items creating an ever-changing menu. It's always incredible no matter what is on the menu, and the café's pay-as-you-can model is even better. Suggested donations are $5 for a small plate and $10 for a large plate, but everybody eats regardless of their means at this café. The bistro also utilizes imperfect and "ugly" produce from local farms for their Full Circle Program, which creates easy-to-prepare, nutritious meals that are delivered to regional shelters. They have even implemented a composting program for food waste.  
Farm to Flame Food Truck - Farm to Flame's wood-fired pizzas are a delicious complement to the beverages at Appalachian Mountain Brewery, where the food truck is usually parked. All utensils and containers used by the food truck decompose within 50 days. The truck runs on biodiesel and gets power from the solar panels on Appalachian Mountain Brewery's roof.
PRO TIP - Many restaurants on Explore Boone's Local Favorites page are also featured by High Country Grown, an initiative that certifies that a restaurant or business is using locally grown products. 
Sustainable Organizations
As a municipality, The Town of Boone has been hard at work behind the scenes working to make sustainability a reachable goal for residents and visitors. Partnerships with Appalachian State's New River Light and Power and Blue Ridge Energy allowed for all municipal buildings to be run on 100% renewable energy by February of 2022. By 2050, the town hopes to have all buildings within town limits running on renewable energy. Boone's Sustainability Department has also focused on waste reduction and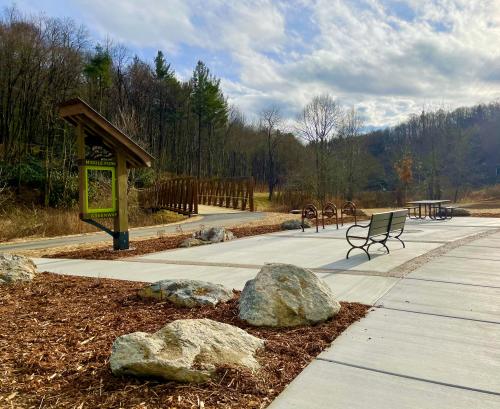 removal in waterways with the installation of a new "Trash Trout", which filters litter from the headwaters of the New River near the Boone Greenway. 
The Blue Ridge Conservancy is an incredible nonprofit based in Boone dedicated to protecting the natural resources found in the area for their cultural, agricultural, recreational, and ecological significance. As of February 2022, The organization has protected 23,000 acres of game lands, hiking trails, state parks, and Blue Ridge Parkway land. Currently, the Conservancy is building the Middle Fork Greenway trail system, that will eventually connect the towns of Boone and Blowing Rock by trail. 
Eco-Travel Pro Tips
Bring a reusable water bottle with you & fill it up where you can
Save any plastic bags you receive with purchases and pick up trash on your adventures.
Bring your toiletries and leave those plastic mini shampoos for the next guest.
Don't stack river rocks when recreating at rivers, these are wildlife habitats. The headwaters in and around Boone are fragile ecosystems.
Stay on the trails when hiking. There may be rare plants or animals underfoot.
Leave the wildflowers for others to enjoy. Take pictures to remember their beauty.
Always pack out anything you pack in, including pet waste and food scraps.
Purchase carbon offsets (if able) when driving or flying long distances.