Vibrant blooms fill up the Boone area after the last of winter's flurries have fallen and the last freeze has thawed. April's snow and rain showers make way for May's flowers, bringing the mountains back to life. Buzzing bees, butterflies, and chirping birdsong always accompany the blooms' return.
Just as tree leaves unfurl at lower elevations before the high ones, so do the wildflowers. At 3,333 feet above sea level, Boone tends to see buds before Blowing Rock at 3,560 feet and Beech Mountain, at 5,506 feet above sea level. This means there's ample opportunity to see a variety of wildflowers at different stages along varying elevations, all within a short drive in the Boone area. 
Find upcoming guided wildflower hikes in the Boone area at the bottom of this page.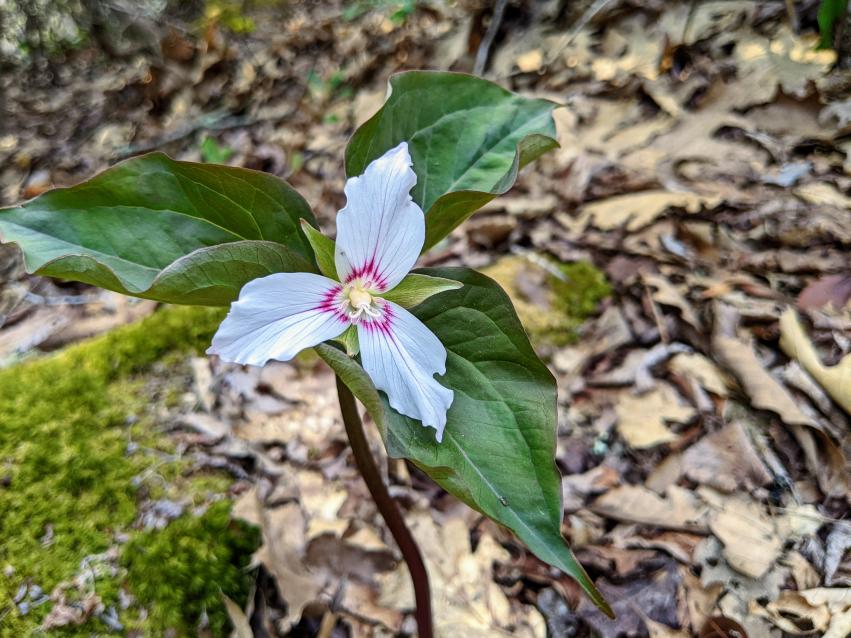 Early Spring Flowers
Some Blue Ridge Mountain blooms flourish before the leaves have started sprouting on trees. These plants tend to have short life cycles and are known as spring ephemerals. These include Carolina Spring Beauty, many species of Trillium, Dwarf Iris, Bloodroot, Mayapple, and Bluets. By mid-May, many of those short-lived plants will have already bloomed, dispersed seeds, and fallen dormant until the next year. North Carolina's state flower, the Dogwood, can also be found blooming to celebrate the start of Spring in early May just as the leaves are starting to grow on many trees. Beautiful Pink-Shell Azaleas & Carolina Rhododendrons also usually begin to bloom in May. 
Where to find them:
The Blue Ridge Parkway has plenty of opportunities to find flowers along the roadsides, hiking trails, and overlooks. Head to Julian Price Picnic Area and find the trailhead sign for Boone Fork Trail, just over the small bridge from the parking area. Enjoy the entire moderately challenging 5-mile loop, or take the path on the right for a 3.5-mile out-and-back hike to Hebron Falls. Stroll through a cheery meadow, creek crossings, rhododendron tunnels, and rock formations and see plenty of early spring wildflowers along the way.
Elk Knob State Park also has a dazzling show of spring ephemerals along their Backcountry Trail, a 2-mile (one-way) moderate to strenuous hike along wooded meadows and backcountry campsites.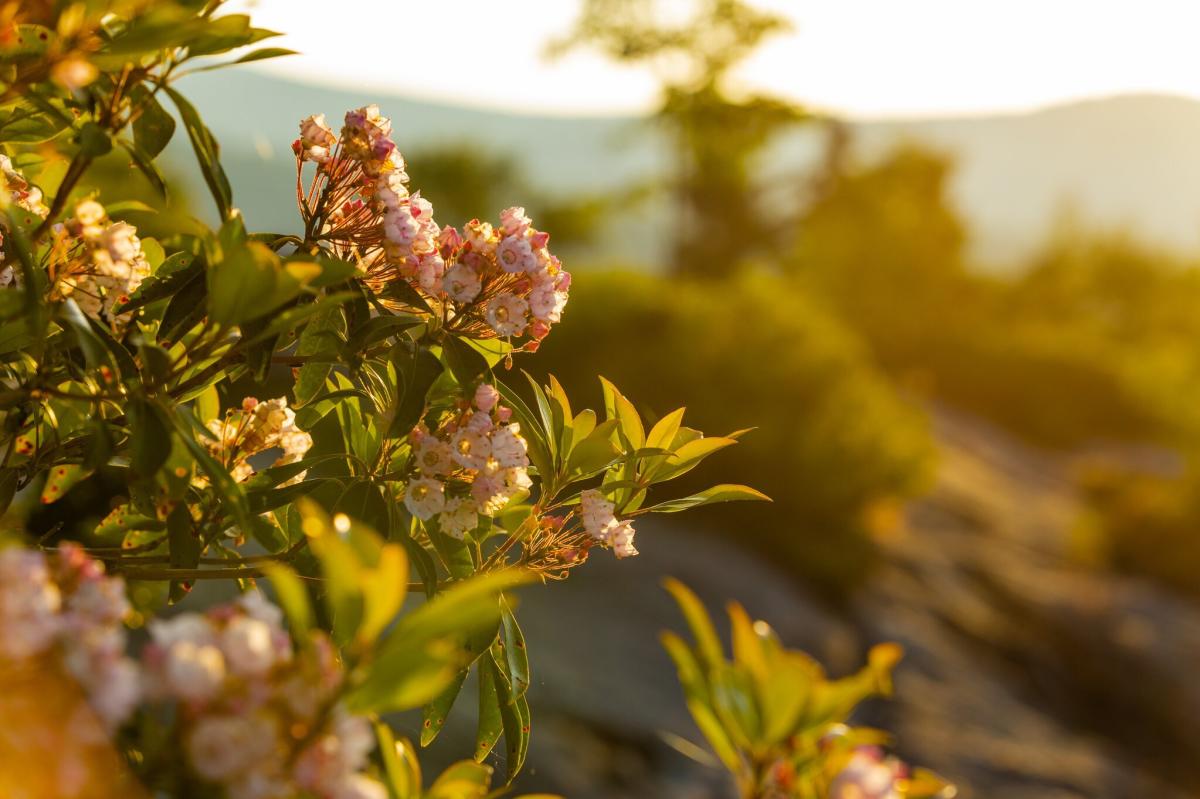 Mid-May to June Flowers
The woodier flowers–like the bright orange Flame Azaleas, delicate white Mountain Laurel (pictured above), and vibrant pink-violet Catawba Rhododendron–bloom a little later in the season. Jaw-dropping wildflowers can be found all around the area during this time of the year. Allegheny blackberries, phlox, Queen Anne's Lace, and Galax are also easily spotted along trails this time of year. 
Where to find them:
Each year, the Remarkable Rhododendron Ramble takes place at the peak of Grandfather Mountain. Pack a picnic and make a reservation online before you head out to the park. Plan to spend a few hours there hiking, walking across the famous Mile High Swinging Bridge, checking out the animal habitats, and learning more about our unique ecology at the Nature Museum. Be sure to ask the entrance gate about the daily programming schedule! 
Take Elk Knob State Park's moderate out-and-back Summit Trail for a stunning show of bright orange Flame Azaleas, complimented by the blue shades of the Amphibolite Mountains at the expansive view from the top. 

Early Summer Blossoms
Green is the prevailing color in July throughout Western NC's High Country mountains and riversides. Still, native and cultivated wildflowers can be found all around. Scenic road trips are often flanked by bright yellow Black-eyed Susans, the official flower of Appalachian State University. Butterfly weed, soft white fleabane, common bellflowers, and even shaded Carolina Rhododendrons are prevalent throughout forested areas and meadows. 
Where to find them:
Daniel Boone Native Gardens is located in the center of Boone in Daniel Boone Park next to Horn in the West, an outdoor historical drama that has been performed for 70 years. Head to the park before the show or after a stop at the Watauga County Farmers Market and find hundreds of native species of trees, wildflowers, and shrubs there, blooming throughout the growing season. 

Late Summer Flowers
The longest days of the year bring goldenrods, purple blazing star blooms, jewelweed with explosive seed pods, and vining Dodder to the Blue Ridge Mountains throughout the Summer and into early Fall. 
Where to find them:
The Middle Fork Greenway may not completely connect Boone to Blowing Rock yet, but there are several small pocket parks along the Greenway already available to explore. Follow along the Middle Fork of the New River and find plenty of beautiful blossoms that thrive in moist shady environments. Walk from Tweetsie Railroad to Mystery Hill on the paved trail, then continue to Sterling Creek Park - over a mile of riverside Greenway that makes a perfect nature break from both exciting attractions!
---
Make It Your Nature to stay on the trails and take only pictures, not plants themselves, so they'll be around for others to enjoy! Instead, stop by the Watauga County Farmers' Market each Saturday or the King Street Market on Tuesdays to pick up a bouquet of cultivated flowers to display at home. 
Wildflower Events