A Guide to Fly Fishing the NC High Country
Few things are more rejuvenating than standing in a crisp Appalachian Mountain stream with a slow and steady trickling of water eddying around your legs. The longer you stay in the river, the more in tune with it you'll become. There's a gentle pull of the current that becomes a reliable counterbalance to your cast. The simple meditative movement can be as fulfilling as reeling in the biggest trophy rainbow trout in the river. Just ask any fly fisher in Boone. 
Then there's the adrenaline-pumping thrill of reeling in a fresh catch! Miles of abundantly stocked Hatchery Supported Trout Waters in the area will open on April 1st, 2023 (until July 31st), with no bait restrictions or length limits and a seven creel limit. Kick off the season at the village of Blowing Rock's 43rd Annual Trout Derby - an all-ages, all-day event that awards prizes to participants who catch the biggest fish in each category. It's the perfect opportunity for anyone to get out on the water and try out a new adventure.
A North Carolina Fishing License is required to fly fish Western North Carolina rivers, lakes, and streams. No additional stamps or special licenses are required to fish trout. Always follow all posted signage.

Get Outfitted!
Our local guides and outfitters won't let anyone leave the Boone area without a rewarding catch. From rods and reels to waders and flies, shops like Waypoint Outfitters and Boone's Fly Shop can get you set up for a solo trip out on the water. Ask about recent insect hatches to find out which flies are getting bites throughout the season.
The fantastic guide services in the area have years of experience locating the best spots for mountain trout fishing and predicting what types of flies will get bites. They can get you suited up for a half-day of wading along private headwater streams or pack a lunch for a full day of floating down a river. Definitely book a trip with a guide service if it is the High Country's hidden gems & trophy waters you're after - those are secrets no one's giving away for free! 
Browse through the area's best Guides and Outfitters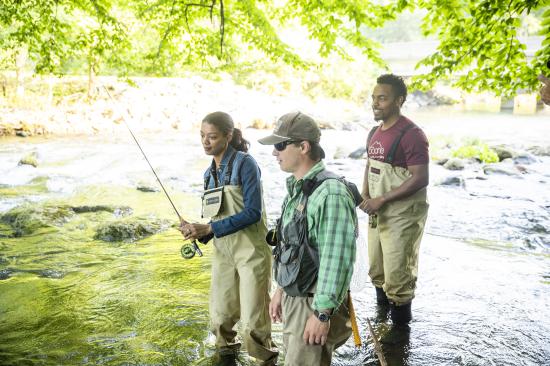 Get to the River!
Experienced anglers can find their way to public access to Watauga County waters using our Public Fishing Access map below, or find fishing waters throughout the state with the NC Fishing Areas & Trout Waters Map. Tennessee tailwaters are close enough for a day trip but will require a valid TN fishing license. 

Along with Spring wildflowers & wildlife, be sure to look out for trout signs and familiarize yourself with regulations. Bringing along a guide is an excellent way to ensure you're following all posted rules, but just in case, we've linked the NC Wildlife Trout Fishing page with more information about the trout signs that line Western North Carolina streams.  

Get a Fish!
The best anglers in the Blue Ridge Mountains aren't always after the biggest trophy fish. Often, the goal is the elusive and sometimes smaller wild species. There are three types of trout found in Western North Carolina streams: native Southern Appalachian Brook Trout, larger Brown Trout, and hatchery-raised Rainbow Trout. The rainbow and brown trout will certainly put dinner on the table, but bragging rights may go to whoever catches a quick native brookie.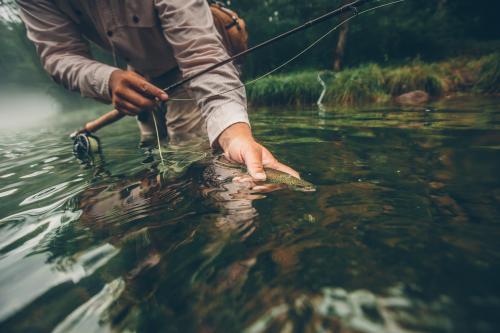 Keep a lookout for dozens of multicolored species of salamanders along the streamside, too. Many rare species, that can only thrive in crisp, clean Appalachian stream systems are found in Boone waters. Some of these are indicator species - a group of organisms that signal the cleanliness and health of a stream. Help keep public waters pristine by planning ahead, leaving the river as you find it, and packing out all waste. 
Grandfather Trout Farm has everything you need for a successful day of fishing all in one place. A North Carolina fishing license is not required to fish on the trout farm's private property, and they'll provide the fishing poles and bait. You only pay for what you catch from their stocked pond, then just relax as the staff will prepare your catch for you.
Want to sample the local trout without the added adventure of catching your own? Many local restaurants have created their own delicious twists on the dish. The Speckled Trout has six different interpretations to try, while The Local, and Hellbender Bed & Beverage also have a unique take on the Western NC delicacy.