With a new year comes new adventures, and 2023 has been officially proclaimed the Year of the Trail by North Carolina Governor Roy Cooper. Now is the perfect time to kick-start those resolutions and explore some of the best trails in Boone and the surrounding area. With over 100 trails in the Boone area, it can be hard to narrow down those bucket-list-worthy hikes. That's why we've identified three different hikes of varying difficulty to complement each stunning season in the High Country.  
Before you go, familiarize yourself with the 7 Outdoor NC Leave No Trace Principles and help Preserve the Awe of our unique ecology. 

Pictured: Boone Greenway
WINTER
Suppose you're looking for serene mountainscapes and peaceful solitude. In that case, a winter hike is the best way to avoid crowds, enjoy the unobstructed scenery, and even witness the rarity of a frozen waterfall if luck (and the weather) is on your side. 
2.9-mile loop on a mix of paved and gravel pathways; slight elevation changes
1.7-mile out-and-back trail on gravel and natural pathways with various maintained overlooks; moderate elevation changes
3.8-mile out-and-back trail on gravel and natural pathways with almost 1,000' of elevation gain; can be more difficult in snowy conditions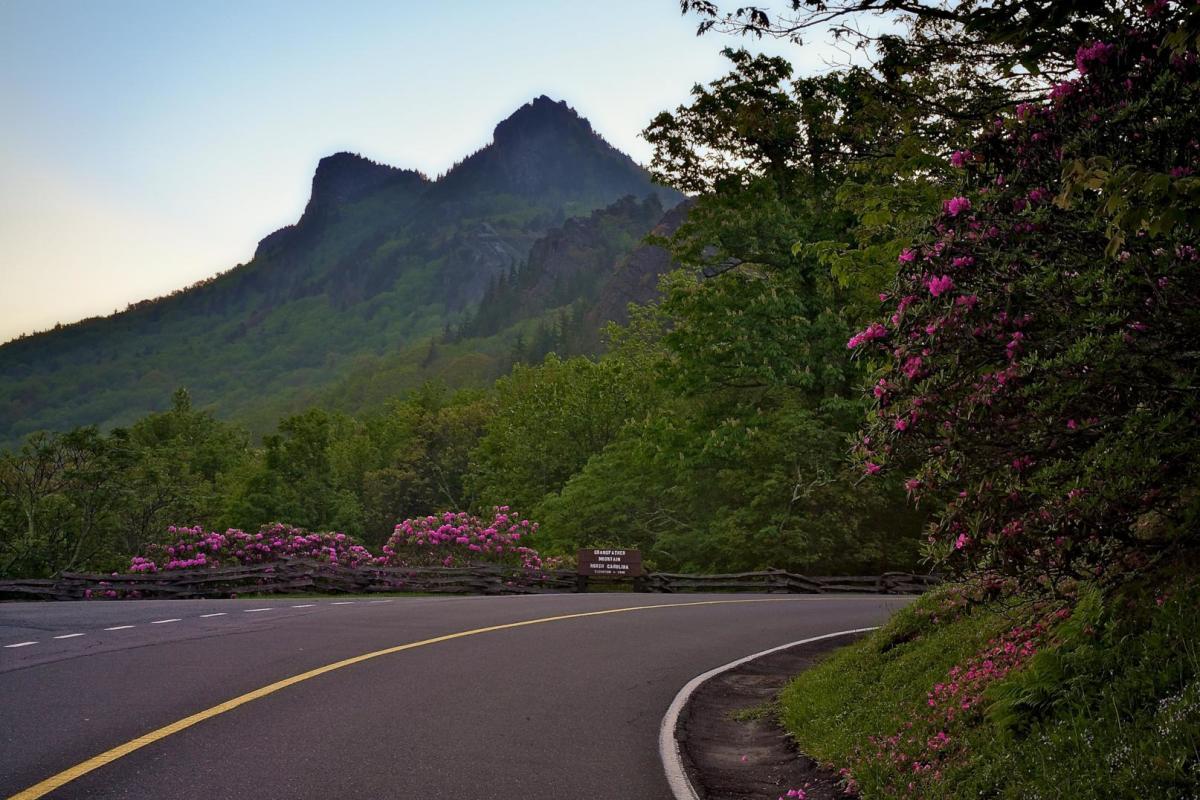 Pictured: Grandfather Mountain from Half Moon Overlook
SPRING
Arguably the most underrated season in the Boone area, a hike during spring guarantees a plethora of vibrant blooms and blossoms without the trail traffic of summer. These are some of the best trails to view native wildflowers, like the brightly-colored rhododendron and delicate pink mountain laurel.
2.2-mile loop around Price Lake on gravel and natural pathways with no elevation gain; features views of Grandfather Mountain
1.5-mile out-and-back trail on gravel and natural pathways with low to moderate elevation gain; panoramic views and wildflower fields
2.4-mile out-and-back trail beginning at Grandfather Mountain with over 1,400' in elevation gain; features ladders that may not be suitable for dogs or children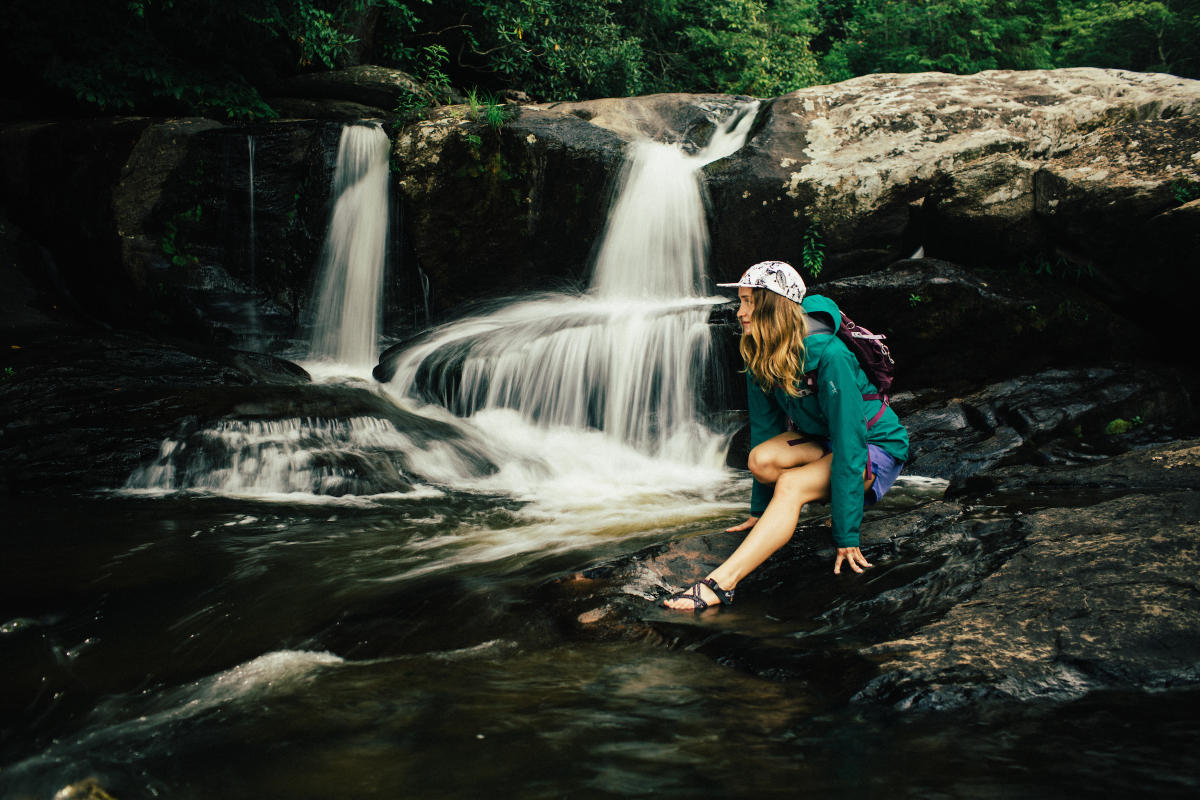 Pictured: Hebron Falls
SUMMER
When you're tired of the scalding summer heat of lower elevations, the mountains of Boone provide a welcome reprieve. Take a dip in a cool mountain stream or simply enjoy the pleasant breeze from an iconic overlook.
0.9-mile loop on a gravel pathway with views of the Moses Cone Manor; quick and easy to accommodate a range of abilities
3.5-mile out-and-back dirt trail part of the longer Boone Fork Loop, moderate elevation changes lead to a cascading waterfall with boulders; some technical elements as the hike progresses
2.3-mile out-and-back trail beginning in downtown Blowing Rock; hike descends over 650' along the creek, passing scenic cascades and historic ruins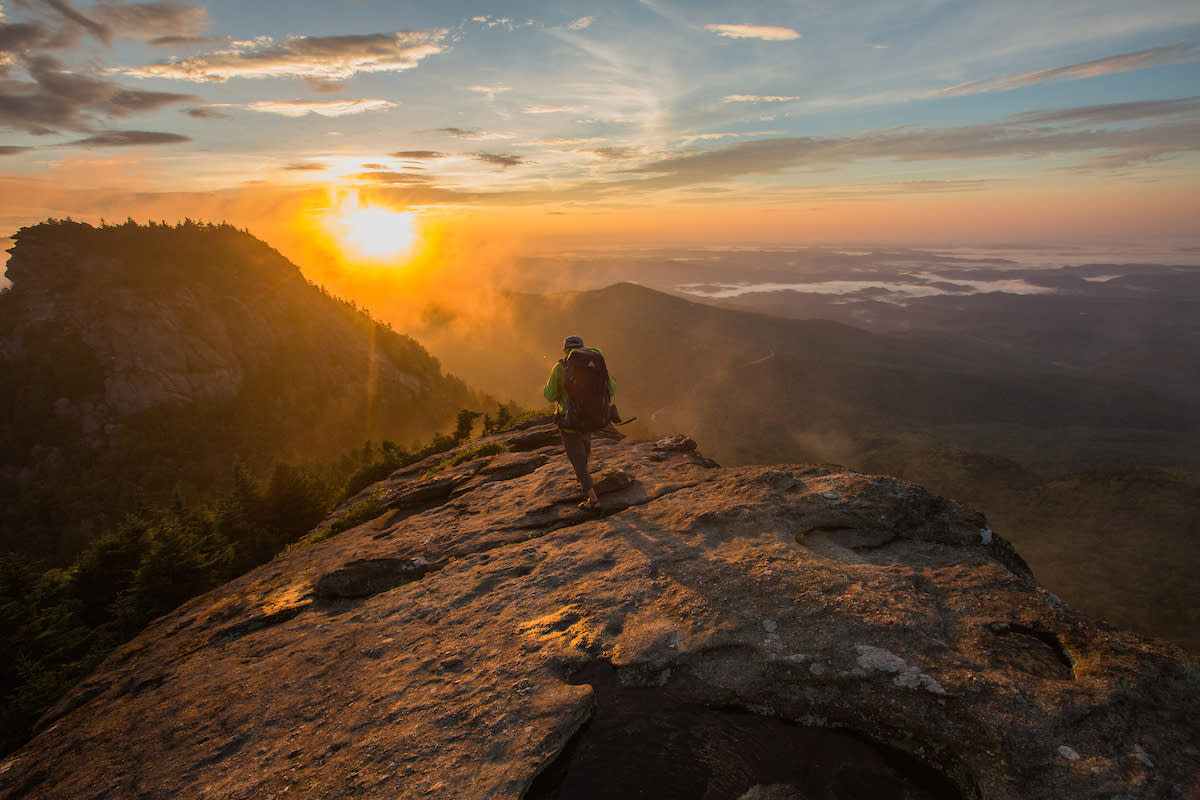 Pictured: Overlooking Calloway Peak via MacRae Peak at Grandfather Mountain
FALL
The Boone area is known for its vibrant and long-lasting leaf season, making autumn the most popular time to visit. One of the best ways to view the wide range of leaf colors in the NC High Country is to get out on a trail and savor the season's spectacular palette. 
0.8-mile loop trail with slight elevation gain; features restrooms, picnic area, and Jesse Brown's historic cabin–a late-nineteenth-century residence
0.9-mile out-and-back trail with 226' of elevation gain on your way back; wooden viewing platform near the falls
8.5-mile out-and-back trail for experienced hikers only, with over 2,100' of elevation gain, multiple ladders and steep grades; allow at least 5 hours to complete this hike