Explore Boone had the opportunity to sit down with Dr. Ray Russell of Ray's Weather Center, home of the most reliable weather forecast in the High Country, to talk to him about his love of trail running in the Boone area. He recommends when and where to go when visiting the area, and how the unique weather got him into his hobby of weather forecasting. Plus, Dr. Russell touches on the planning and preparation involved with running the entire distance of the Blue Ridge Parkway, while leaving no trace.
Best places in the Boone area to spend outdoors?
I'm a runner – that's the thing I love to do most. I used to play a lot of golf up here, but then I had some eye problems, so I had to go back to running. My favorite place to run out on trails is Moses Cone Memorial Park, where there are 24 miles of trails. The great thing about that for someone with vision problems is that I can still navigate the trails. You can go there at various skill levels and find something totally flat around a lake or take a really good climb up to a mountaintop. That's about my favorite place to go around here.
Best season to go run on those trails?
Probably the springtime. That first time out running in the springtime is just a great feeling. I run through the winter on a treadmill so I do stay in shape year-round. The gorgeous time of year is the fall. Being able to get out then is just amazing.
What do you like to do after you hit the trails?
A few years ago, we had a group that would go every Tuesday night to the trails at Moses Cone and would end up at Bistro Roca in Blowing Rock for a beer and burger afterward. That was always a fun thing to do with a group of people after a run.
Best places for breakfast/lunch before a trail run?
We have so many great restaurants in the High Country, and I've eaten at all of them! Melanie's in Boone is a favorite for breakfast. Booneshine Brewing Co. for lunch or dinner. Lost Province Brewing Company is another great stop. We love Vidalia's, too, and so much more. We have so many great restaurants in the area, and so many of them are locally owned and operated by local chefs who are just amazingly talented.
What attracted you to North Carolina and Boone?
I moved here in 1991. I'm a computer science professor by training – I retired last July – but I was teaching at Virginia Commonwealth University and saw a job advertisement for a computer science professor at Appalachian State University. My wife and I had two girls who were in second and third grade at the time. The clincher for us became the fact that everyone wanted to retire and live here, but we could just live there. So we did!  
There's just so much culture here. There are so many talented people! I'm thinking about the pottery and music, folks who build guitars and musical instruments, you name it, it's here somewhere. People who become world famous grew up right here; Doc Watson comes to mind. Olympic athletes have lived right here in Boone, so whatever someone's interest is, they can find it!  
The weather is so unique, the summers are just incredible in terms of comfortable temperatures. I was amazed by the weather as soon as I got here, that is what sparked my hobby in weather. I lived through the blizzard of 1993, which was an amazing weather event. Our first Halloween here got snowed out, which I had never had before!  
What makes the Boone area so unique?
People know me for weather even though I'm a computer scientist by training. We have beautiful mountains around us, and people come for 80- or 85-degree mild summers, in the fall for the leaves, and for snow and skiing in the winter. I believe that weather is among our most valuable natural resources and sets us apart from any other place in the country.
How do you plan for outdoor activities in Boone weather?
You've got to be in layers. If I'm going out to run on a cold day, I've got cold gear with underlayers, wool socks and a couple of layers on top of that. You can always take a layer off, but once you get out there on the trails, if you don't have it ... I've made that mistake before! My hands get cold, so I always remember the gloves and make sure my hands are protected. It's so important for runners because your muscles are stiffer in cold weather, and you are more prone to an injury. Making sure your muscles are warm is a safety issue for someone who does crazy things like running marathons.  
One thing you may not know about me is that I ran the entire length of the Blue Ridge Parkway, all 469 miles, six years ago. I started in Staton, Virginia, and ran all the way to Cherokee, North Carolina, 20 miles a day for 23 days. When you do that, you have to have the right equipment and you have to be prepared to survive the pounding on your body day after day. That run was 55,000 feet of climbing elevation. There are only two people in the world who have ever done that; one ultra-runner in Hendersonville did it first.
How else do you practice the Leave No Trace principles?
Take that parkway run, for example: I would have someone with me every day and sometimes a group of people running along. We had to plan for that trip carefully. Someone would drop me off and put food and water out for me based on how warm it was and how often I would need more water. We made provisions every day to make sure that any trash got picked up. 
I actually got corrected by a park ranger one day: Apples were a go-to food source, and I would just heave the core down in the woods, and a park ranger said, "Ray, I know that's going to degrade, but we don't want to leave food near the parkway that could draw animals nearer to the road, which could cause accidents." So we made sure that there was no trace that we left behind, even with the apple cores and banana peels.
Cool places to stay near Boone?
There are wonderful bed & breakfasts and cabins around the area that we've stayed in. We love doing that! One year, we were remodeling our house during the second snowiest winter in the history of Boone, so in the bigger snowstorms we'd stay in Boone hotels with our dog. We've always been taken really good care of!
What are other can't-miss experiences in Boone?
A zipline and, of course, skiing in the wintertime. Getting out on the river with tubes or canoes with RiverGirl or Wahoo's Adventures are great things to do. Hiking and running are where I spend most of my time outside. We're big music lovers so I love the Americana Music Festivals and the variety of music that is here. There's no shortage of fun things to do here.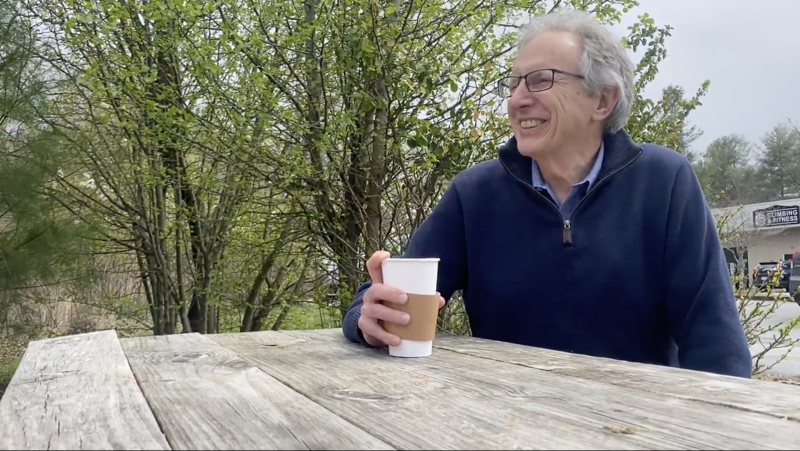 Thank you to Dr. Ray Russell of Ray's Weather Center for sitting down with Explore Boone for this interview, created in partnership with VisitNC. Visit Outdoor NC for additional tips on how to connect with nature and help preserve the natural beauty of North Carolina.