Dive into Winter Wonder
Layer up and don't forget to pack ski bibs or snow pants for your Boone vacation, because wintery amusements are waiting. One of the best ways to stay warm on a cold winter day is to get moving! There are endless exciting ways for families to do just that near Boone. While natural snowfall can be hard to predict in the winter months, several parks and ski areas near Boone keep snow on the ground with snow guns all winter long. 
Snow Tube (or zipline!)
Nothing beats the thrill of flying down a hill on a tube in the snow. No skill is necessary for this riveting ride, just grab the tube's handles and glide all the way down. Make a day of it at Hawksnest Snowtubing and Zipline where the Snowbird Tour will take you ziplining high above the hills and the tubers below.
Note: Tubers must be at least 3 years old. All zipliners must meet age and weight requirements.
Outdoor Ice Skating
Spend a day or an evening under the stars at Appalachian Ski Mountain's outdoor ice rink. Get a quick lesson from their awesome instructors, then try out those new skills on the ice. Family members can cheer on the skaters from the bonfire next to the rink. Moonlight Skating Sessions under the stars, from 9:30 – 11:30pm, are offered on New Year's Eve and on February 18, 2023.
Sled through the snow
On a snowy day in Boone all of the hills become fair game for sledding. No natural snow during your stay? Just head to the Beech Mountain Sledding Hill, where snow guns maintain the hill all winter long.
Note: Nearby, Beech Mountain Resort has snowtubing, skiing and snowboarding, plus a brewery and restaurant for after the fun.
Try the Wilderness Run Alpine Coaster
Weave and wind through the mountains on the Wilderness Run Alpine Coaster this winter. A newer attraction to the Boone Area, this coaster can reach speeds of up to 27 miles per hour on its nearly 3,000-foot track. Control the speed with a handbrake as you zoom through the forest, even in snow!
Note: Registration is required for all participants. Riders must be at least 3 years old to ride with an adult. Riders must be at least 54" and 9 years old to ride solo. 
Strap on some Snowshoes
Learn a new skill at an hour-long guided snowshoe tour at Sugar Mountain Resort. Tours include snowshoe rentals, which allow the user to balance on top of the snow and easily hike through the winter wonderland atop Sugar Mountain. Ice skating, snowtubing, skiing and snowboarding are also activities found at the resort, which is just 15 miles from Boone.
Note: On Winter Trails Day, January 3, 2023, try out snowshoeing for free (with equipment rentals included) at Sugar Mountain Resort. 
Hike Elk Knob State Park
Hike to the top of one of North Carolina's highest peaks at 5,520 feet above sea-level, where the views at the summit can go on for miles. Flatter trails at the park can be used for cross-country skiing, birdwatching, and exploring the unique ecology of the area. 
Take a break from the Cold
Some chilly winter days were made for staying inside, drying out, and keeping warm. Everyone in the family can stay entertained no matter what the weather looks like outside with these indoor activities in Boone and surrounding areas. 
Mystery Hill
Take a few hours with the family to explore the peculiarities at Mystery Hill. Tour two historical museums and the oddities at the House of Mystery, mine for sparkling gems at Prospector Hill, and practice tomahawk throwing. With a mixture of indoor and outdoor activities, this roadside attraction is perfect for any winter day.
Bowl at 10 High Country Lanes
Assemble your team and head to 10 High Country Lanes for a few games of bowling. There are sixteen bowling lanes, plus darts and cornhole to enjoy. Don't forget to take advantage of the bowling alley's tasty food menu and full bar. 
Try Mining for Gems
Find the largest private collection of fossils in North Carolina at the Appalachian Fossil Museum located at Doc's Rocks Gem Mine. After examining the dinosaur skeletons at the museum, grab a bag of ore and head to the plume to mine for semiprecious gems. Foggy Mountain Gem Mine also offers gem mining indoors and outdoors at its two locations in Boone.
Mysterium Escape Adventure
Need a place to escape the flurries? How about an elaborate escape room, where solving puzzles, riddles and finding clues are the only way out? Mysterium Escape Adventure in Downtown Boone allows up to 8 participants only an hour to work together to find their way out. There are dozens of locally owned shops (including the Mast General Store's famous candy barrel), a historic theatre, art and craft galleries, and a cultural center nearby to keep you busy before and after the escape room. 
Shop 'til you Drop
Strolling through the locally owned shops in downtown Boone and Blowing Rock are a wonderful way to spend a below-freezing day. There are numerous craft shops and galleries, clothing boutiques, and antique stores with seemingly endless aisles. The Tanger Outlets in Blowing Rock are home to both national and local brands, plus some unique eateries like the Penny Path, Egg Rollin' and Kilwins.
Note: Visit the Boone area the last weekend in January to celebrate the season at Blowing Rock Winterfest! Enjoy free admission to museums, tons of kids activities throughout the village, watch ice carving demonstrations, sample chili all over town, and join in a hayride around downtown. 
Where to Fuel up for the Cold Weather
There's nothing like a warm meal on a cold winter day in the mountains. Shrug off the sluggishness of the morning with a filling breakfast to kick-start a day full of wintery recreation and wind down for the day with a comfort meal. 
Coffee Shops to Start the day
Hit the ground running at one of the local coffee shops around Boone. Bald Guy Brew's new location in Boone has a knowledgeable staff that freshly roasts coffee beans on-site. Hatchet Coffee Roasters' delightful rotating seasonal coffee menu is sure to impress coffee lovers. Espresso News is an adorable shop tucked away in downtown Boone that offers hot cocoa and freshly baked goods year-round.
Note: Those three local shops are just a taste of the cafés the area has to offer. Browse through all of the awesome coffee shops in Boone.
Go Back in Time at Troy's Diner
Open for breakfast and lunch, Troy's 105 Diner is a nostalgic chrome diner with simple staples loved by locals and visitors alike. Filled with memorabilia from a different time, the diner is a great place to come get a meal at the counter or in a booth, listen to a song on the jukebox, and split a milkshake or a sundae with a loved one. Appalachian State's former Running Back, Camerun Peoples, is pictured below enjoying a banana split at the diner.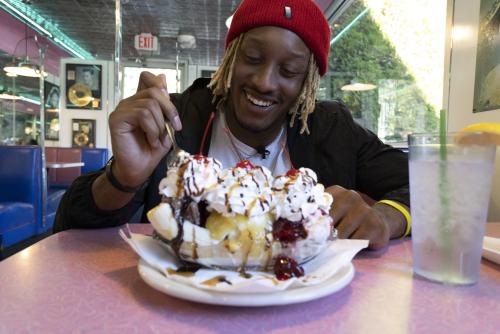 Satisfy hunger at Lost Province
With authentic wood-fired pizzas and creative brews, Lost Province Brewing Co. is a great stop for lunch or dinner in downtown Boone. Their pet-friendly porch is fully enclosed for those especially cold days, while the second story of the porch, with views of Howard's Knob, is perfect for a sunny day. If it's just drinks and light bar snacks you're after, try stopping in at their production facility and taproom, Lost Province at Hardin Creek.
Something for everyone at Wild Craft Eatery
Wild Craft Eatery has flavors that appeal to everyone with their diverse menu pulling inspiration from the various cultures that are found in America. The décor inside is just as varied, creating a unique and welcoming atmosphere. Plenty of vegetarian and vegan options are available. Open for lunch and dinner Thursday - Monday.
There are plenty more restaurants in the Boone area to choose from, just check out our Kid Friendly Dining page. 
Plan your stay at a property in the Boone area by visiting our Hotels & Cabins page.