Fall is almost here, and these farms and attractions are the Boone area's very best.
It's that time of year, and certainly a favorite, to deck out family domains with the fruits of the season. As soon as you detect fall in the air, get outside for the day, find the cheekiest jack-o-lantern, get lost in a corn maze, sip on hot cider and nibble on cider-flavored goodies, or pick apples at a nearby orchard. The farms listed below offer more than pumpkins and strolling through crunchy leaves. You'll also find tractor-pulled hayrides, nighttime attractions, decorative gourds and Indian corn, scarecrows and concessions. Whether you're looking to decorate your fall table or create memories with the kids on a crisp, fall day, you'll find all the ideas you need to build a memorable autumn trip to Boone. Tip: Wear shoes and pants you don't mind getting a little dirty in, and bring along colorful clothing layers to switch out for a variety of photo opps, and to adjust to changing temperatures.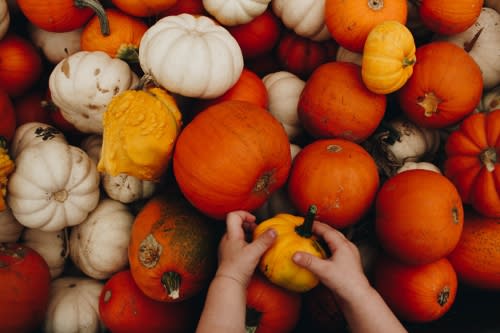 BOOger Hollar Pumpkin Patch, 1046 Deerfield Rd., Boone
The Hollar is a pick-your-own pumpkin patch with a wide variety of pumpkins of all shapes and sizes, right in the heart of Boone. This pumpkin patch also offers a corn maze as well as hayrides on the weekends for even more family fun ($5 adults; $3 children). It's a good stop for families with smaller children. BOOger Hollar is open daily, weather permitting. If you happen to stop by when they're not open, you're welcome to pick out the perfect pumpkin, and pay by the honor system. Cash or check.
Suggested add-on: As you drive back toward Hwy. 321, stop at the Boone Greenway just off Deerfield Road to enjoy a family stroll and picnic along miles of handicapped-accessible, paved walkways by the headwaters of the South Fork of the New River, the oldest river in North America. For added play time, the Greenway connects to the Tot Lot playground and ballfields at nearby Watauga Parks & Recreation complex.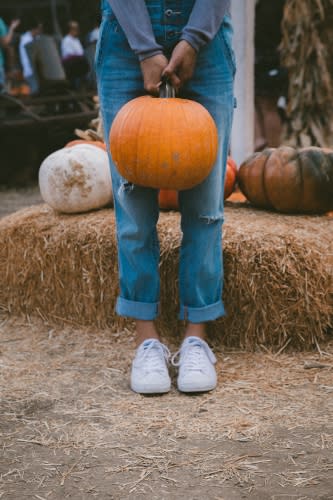 Harvest Farm LLC, 3287 Hwy. 194 N., Valle Crucis | 828-297-1462 | harvestfarmllc@gmail.com
About a 15-minute drive southwest of Boone in the community of Valle Crucis stands a 7-acre farm with a picturesque old barn and a farm-stand brimming over with pumpkins and pie-pumpkins for sale. If it's decorative gourds you want, they've got them, and you can also opt to pick-your-own pumpkins in the field. While there, take a tractor-pulled hayride, or the Wolly Wagon for kids 12 & under, and enjoy on-site concessions, too. Nightfall at the farm offers a chance to explore the family-friendly corn maze by flashlight (bring your own).
Suggested add-on: Stop in at the Original Mast General Store ca. 1888, just a few doors down, catch some live music on the porch, peruse the store, as well as other shops in the complex: The Garden Shed, the Little Red Schoolhouse (Mast Store sales and clearance), Rivercross Made in the U.S.A. (an amazing collection of artisanal crafts), and, another few doors down, the Mast Annex, Candy Barrel, and Dutch Creek Ice Cream. From here, you can take a tiny jaunt behind the Annex and Candy Barrel to a hidden, recreation gem, the Valle Crucis Community Park. The park offers handicapped-accessible restrooms, playgrounds, picnic shelters, and paved walkways leading to the bank of the Watauga River, a favorite fishing and birding spot. Strollers, roller blades, small bicycles, etc. are welcome. Park closes at dusk.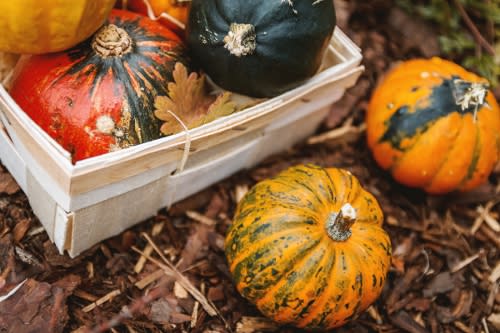 New River Corn Maze, 660 Laurel Gap Ridge Road, Boone | 828-264-2986 | newrivercornmaze@gmail.com
East of Boone, just off U.S. 421 in the Deep Gap community, take a drive down Laurel Gap Ridge Road to the Brown family farm and New River Corn Maze, open day and night. Find a wide array of pumpkin varieties to suit any decorative, baking, or carving needs. Play a game of cornhole, get lost in the corn maze - day or night - and take a tram ride around the farm. Cash or check. Enjoy a picnic by the South Fork of the New River, a designated National Wild and Scenic River.
Suggested add-on: After returning to U.S. 421, head over to the Todd Community for a look at a quaint Appalachian town on the banks of the New River. About 100 years ago, Todd was a bustling railroad town, and a one-time contender for the county seat. Now, it's a tiny but favorite place to access the New River for tubing, kayaking and fishing, a scenic spot for bicycling along Railroad Grade Road, and a gathering place where old-time music and dancing liven up the Walter and Anne Cook Memorial Park or the creaky wood floors of Todd Mercantile's upstairs room. Rent fishing rods and lures, kayaks, river tubes, and bicycles at RiverGirl Fishing Company, or check out Wahoo's Adventures for guided trips on the river.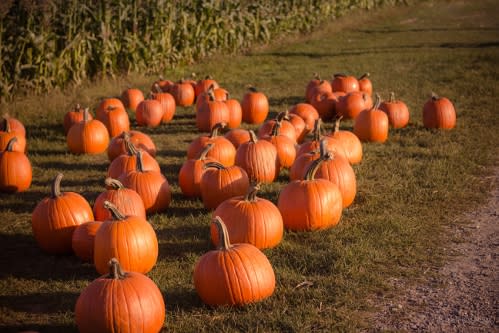 Directions to Todd from New River Corn Maze: Drive 421 south for 1.7 miles and turn left onto Brownwood Road. Follow Brownwood 2.8 miles to the junction with Cranberry Springs Road. Continue to the left on Cranberry Springs Rd. about .6 mile to the junction with Railroad Grade Road. Turn left onto Railroad Grade and follow it 4 miles to the community of Todd, NC. Later when leaving Todd, you can return to Boone via N.C. 194 South (11 miles). Or, head toward N. Wilkesboro: return to Cranberry Springs Road and follow it 3.5 miles to U.S. 221 S. Follow 221 South 1.8 miles to U.S. 421 S.
Make a weekend of it! Check out our lodging page when you're ready to plan your trip to Boone's best pumpkin patches and corn mazes.
Related links: 5 Scenic Drives in the Boone Area for Fall