Cover Photo by Hugh Morton | Grandfather Mountain Stewardship Foundation
Camerun Peoples, Appalachian State University's former star running back who is now signed with the Carolina Panthers, had to make the most of his very limited time off during his four years in Boone. That's why Cam wants visitors to the area to know the most exciting spots for a quick adventure that he discovered while living in Boone. Once he's finished reading opponents' defenses and dominating out on the field, he's reading trail maps on the Blue Ridge Parkway and menus out on the town. Make the most of a short trip to Boone with his insider tips!
If someone is coming to Boone for the first time, where are you sending them?
I would send them to the Blue Ridge Parkway. This gives people a chance to view one of the most beautiful spots in the country! It's a lovely drive with pretty overlooks that never get old.  Anyone would enjoy their time there. I know I do.
Boone is known for outdoor adventures. What's a must for someone looking to explore the great outdoors?
There are a plethora of options in the mountains for this type of activity! One that I have discovered is the Laurel Falls Trail! It's a really good hike and leads to a waterfall which is nice!
Mountaineers have it made with a beautiful campus at Appalachian State University. What's one place on campus that's a must for visitors to see in Boone?
None other than THE ROCK! Kidd Brewer Stadium! The crowned Jewel of the High Country!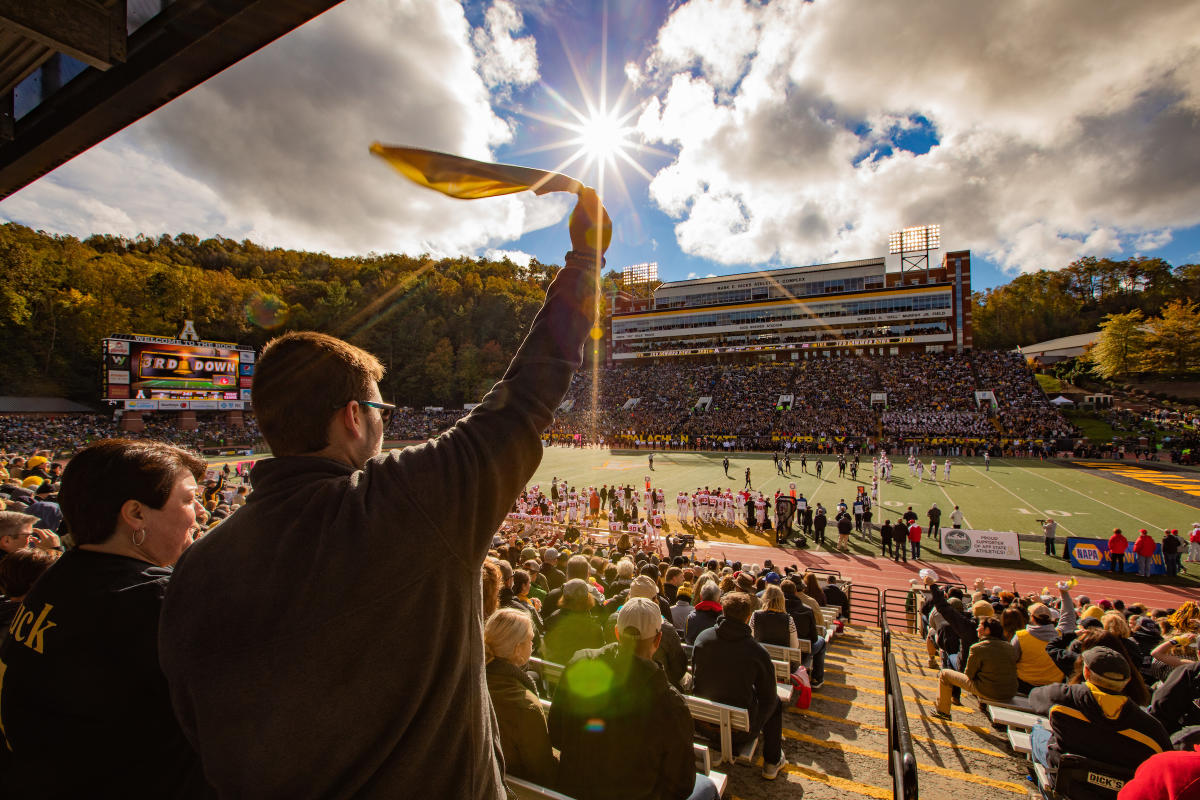 The Rock is a special place. Why do you think it's a must-visit for any die-hard college football fan?
The atmosphere, the fans, the team, but most importantly the culture! Coming to The Rock you will experience one of the best college Game Day experiences of a lifetime.
"Football has a heartbeat in Boone and Kidd Brewer is where it stems from! It's honestly a place like no other!"
​There's the one breakfast spot that you know will always fuel you up for the day? Simple man, simple plan, you can never go wrong with Waffle House! I grew up with a Waffle House and having one in Boone was one of the reasons I was so happy coming here! I actually ate there on my first visit to Boone.
You can only eat at one Boone restaurant for an entire year. Where are you going, what are you eating and what is it about this meal that you love so much?  I have to go with Taste Grill. I'm getting the hibachi chicken to-go special. I love hibachi and this is loads of good food for a low price. 
Check out more local favorite restaurants here!
Best Overlooks on the Blue Ridge Parkway near Boone
Grandview Overlook  - Milepost 281.4 - Look down over the Yadkin Valley, an area where a young Daniel Boone spent time hunting and exploring back in the 1700s.

Raven Rocks Overlook - Milepost 289.5 - An incredible sunset spot with large boulders and quaint places to picnic. 

Thunder Hill Overlook (pictured, right) - Milepost 290.4 - A popular stop with expansive views, a short hiking trail across the street, and minimal light pollution for stargazing.

Moses Cone Memorial Park - Milepost 294 - Over 25 miles of gorgeous trails, a historic mansion and craft gallery, and several fishing ponds. 

Julian Price Lake - Milepost 296.7 - Views of Grandfather Mountain across a pristine mountain lake. Hike the loop around the lake or fish from shore or aboard a canoe or kayak.