The team behind the revitalization is Loden Hospitality, known for the restoration of The Longleaf Hotel in downtown Raleigh.

BOONE, NC — Rhode's Motor Lodge, a 1950s motel that has been renovated and reimagined into a mid-century modern boutique hotel, is now open in Boone, N.C. 
The 54-room motel is taking reservations from travelers seeking a one-of-a-kind boutique hotel experience in the North Carolina mountains. Rhode's Motor Lodge & Canteen will offer memorable hospitality with a camp-inspired design for those exploring the Blue Ridge Parkway, Appalachian State University, Grandfather Mountain, Tweetsie Railroad, ski resorts, and numerous other High Country attractions. 
The transformation of Rhode's Motor Lodge is the work of Loden Hospitality, a Raleigh-based hotelier known for The Longleaf Hotel, a mid-century modern gem in downtown Raleigh. For decades, the two-story former Travelodge languished as a nondescript chain motel until Loden removed the exterior stucco to uncover the original starshine breeze blocks and other mid-century design details. The revival and redesign of The Longleaf Hotel garnered national and international press attention, including in the Michelin Guide, The (London) Times, Condé Nast Traveler, Travel + Leisure, Hospitality Design, Bon Appetit, Thrillist, Our State and more. 
"At Loden Hospitality we are always looking for unique older properties in dynamic markets that we think can be repurposed and reimagined in a way that honors the history of the property and the place," says Russ Jones, president of Loden Hospitality. "That's exactly what happened here and our job is then to create authentic, unique hospitality experiences to highlight the best of what the High Country has to offer. We are really excited to bring this vision to Boone. We wanted to create a place that is welcoming and interesting to locals — and we hope the community agrees."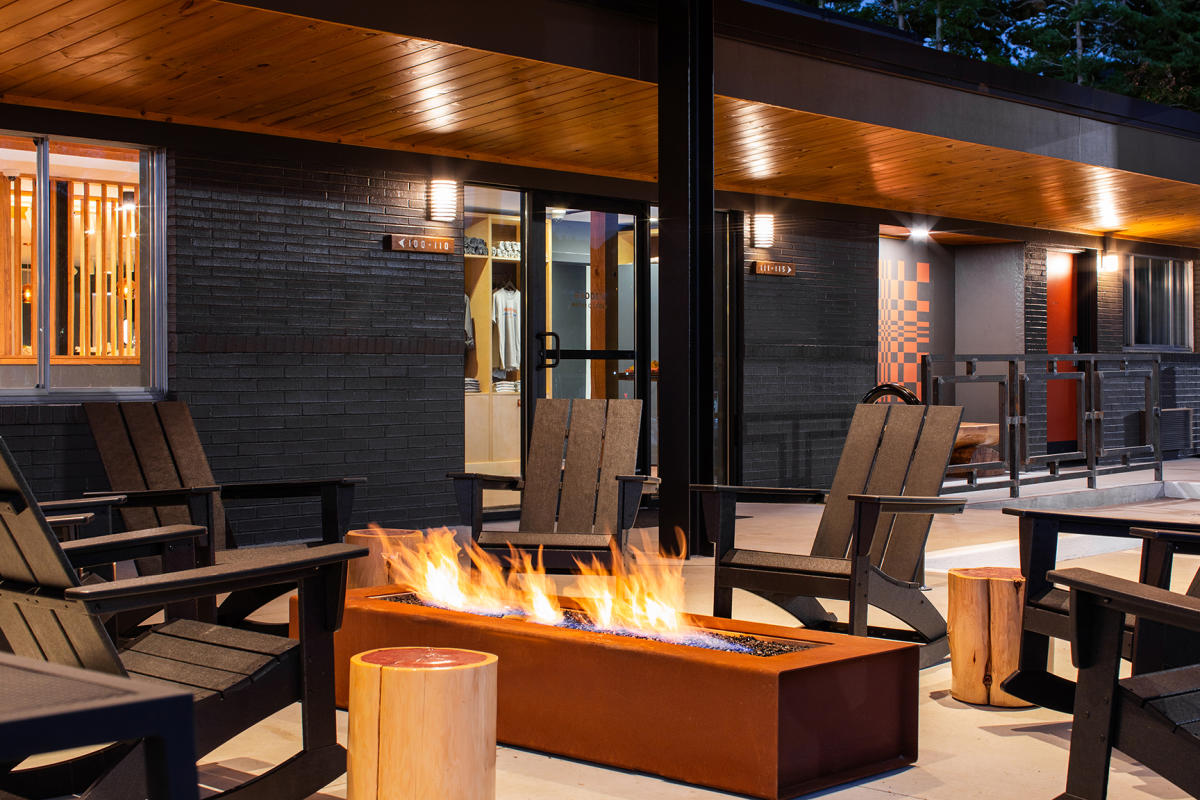 "The development of the Rhode's Motor Lodge and Canteen brand was influenced by the property's mid-century modern history and the outdoor adventure spirit of Boone," said Christine McDonald, creative director for Loden Hospitality. "We strived to combine the essence of a mountain lodge with a mid-century modern motel offering 21st-century amenities and comfort. Rhode's and Canteen are purposefully designed to appeal not only to out-of-town guests, but locals as well. This isn't a typical hotel experience."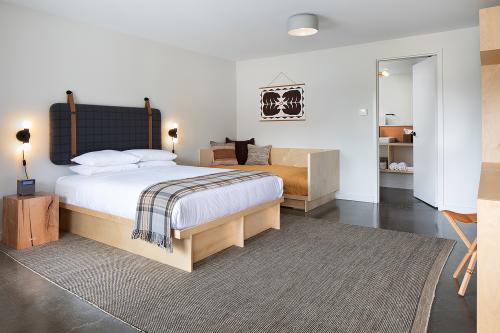 Rhode's Motor Lodge takes its name from the rhododendrons that bloom each spring and early summer on the mountain and its location near the crossroads of NC Highways 321 and 221 and close to downtown Boone. The hotel offers a selection of King, Double Queen and King with Daybed suites featuring rustic, yet nostalgic design by the Creative Office of Joshua Gajownik, who did the environmental design at The Longleaf Hotel. Gajownik created spaces that nod to the nostalgia of motor lodges and yet offer refined thoughtful design. Guests will enjoy 300 thread count bed linens and luxury washable wool blankets, as well as custom furnishings, including tree trunk nightstands, pendant light fixtures that nod to tent lights, three-legged camp stools and Rhode's Motor Lodge-branded Coleman coolers for guests to use as an ice bucket or during their High Country outings. Other room amenities include a 43-inch smart TV, a minifridge, in-room safe and Soundfreaq bluetooth speaker and alarm clock. More than 38 rooms have balconies where guests can enjoy mountain views. 
Guests arriving at the motor lodge are greeted by a covered front patio with a welcoming fire pit, Adirondack chairs and communal seating to enjoy a drink or bite to eat. The centerpiece of the lobby is a broken terracotta tile fireplace surrounded by cozy chairs and leather and birchwood banquettes. Guests can entertain themselves with a game of pool or various video games, including Golden Tee. A second outdoor patio off the lobby features several more fire pits circled by Adirondack chairs and a canopy of string lights to enjoy a drink, meal or live music at the end of the day.  
The hotel's restaurant, Canteen, serves breakfast and dinner seven days a week for hotel guests, locals and passers-by. (Lunch service will be added later.) Canteen offers modern casual fare that nods to Appalachian ingredients and classic dishes. The breakfast menu caters to morning business meetings, weekend brunch and grab-and-go offerings for guests to enjoy during High Country adventures. Menu offerings include Smoked Trout and Cream Cheese Bagel, Smoky Mountain Gouda Grits and Overnight Oats in rotating flavors, such as Caramel Apple, Chunky Monkey, Caramel Macchiato and more. Boone-based Hatchet Coffee Roasters coffee and Stick Boy Bread Co. baked goods are also available. 
At dinner, diners can choose from a selection of appetizers, salads, sandwiches and fry bread tacos. Highlights include Smoked Trout Cakes with Roasted Corn Salad and Lemon Dill Caper Aioli; Pepper Jack and Pickled Okra Poppers; Wild Boar Brat with House Pickled Slaw and Lusty Monk Mustard; Wagyu Steak Sandwich with Smoked Gouda, Caramelized Onions and Horseradish Cream Sauce; and Appalachian Fry Bread Tacos filled with Wagyu Brisket, Southern Pulled Pork, Seared Trout or Grilled or Fried Chicken. Desserts include the restaurant's signature sweet: Canteen's S'mores Brownie featuring a Graham Cracker Crust, Dark Semi-Sweet Chocolate Brownie, Toasted Marshmallow Cream and a Chocolate Ganache Topping. The restaurant's beverage selection focuses on craft cocktails, wines by the glass and North Carolina beers.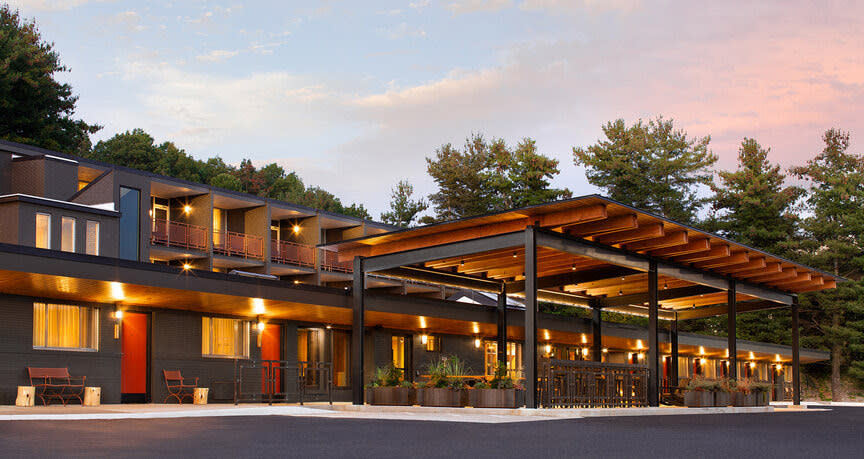 Photos Courtesy of Taylor McDonald Photography
###