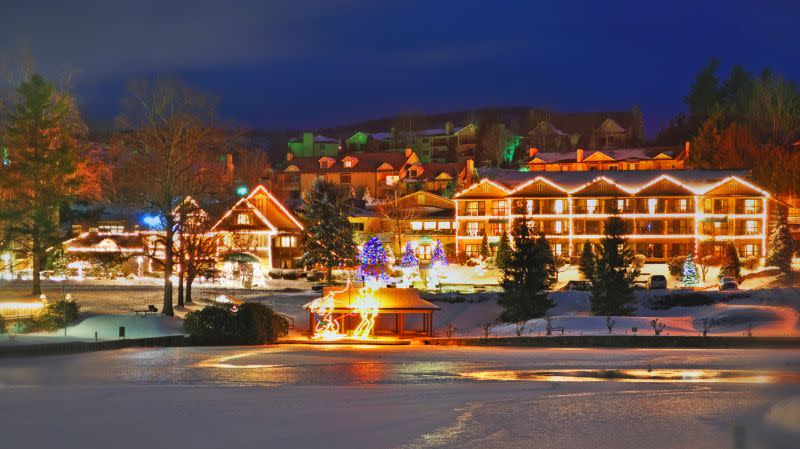 BOONE, N.C. (NOVEMBER 1, 2016) - Well-known across the Southeast as a prime mountain location for outdoor activities, Boone, North Carolina, is also the perfect place to get in the spirit this special time of year. For example, beginning in mid-November, the Boone area becomes a perennial destination for those from across the state for its Choose & Cut program, where you can pick out and cut down a fresh Christmas tree at a local tree farm, creating a fun, memorable tradition with loved ones and friends. Boone area tree farms are listed here. With a variety of lodging options to choose from, visitors will find several area hotels that offer Choose & Cut packages.
Nestled in the Blue Ridge Mountains, Boone provides stunning mountain landscapes as well as a vibrant arts and culture and foodie scene. Holiday festivities for all ages fill the days between Thanksgiving and Christmas. Top holiday picks include:
Thanksgiving Weekend:
Chetola Resort's Festival of Lights

A winter wonderland awaits you with the addition of more than 50,000 dazzling lights bordering Chetola Lake. Drive through the resort area and view illuminated ice skaters, a Nativity scene, a colorful train, Rudolph's "Holiday Catch," and much more. This free festival opens to the public beginning Friday, Nov. 25 and continues through the end of January.

The annual Beech Mountain Holiday Market features perfect gift items for everyone on your holiday list, including copper and steel artwork, pottery and woodwork, unique local crafts, and much more. The one-day Market takes place at the Buckeye Recreation Center on top of Beech Mountain on Saturday, Nov. 26 from 9 a.m.-3 p.m.

Downtown Boone Small Business Saturday Shopping

On Small Business Saturday, Nov. 26, start your gift-buying early and take advantage of shopping small business sales, including local crafts and artisan gifts, while walking through the lively and historic heart of downtown Boone.

Irishman John Doyle highlights stories and holiday music from his homeland during the Mountain Home Music concert at St. Luke's Episcopal Church in Boone on Saturday, Nov. 26 starting at 7:30 p.m.
Weekend of Dec. 2:
Annual Solar Christmas Tree Lighting and First Friday Holiday Art Crawl

For 18 years, the ASU chapter of the American Solar Energy Society has hosted the Solar Christmas Tree Lighting with the purpose of bringing together the greater community for a holiday celebration and to educate about the benefits and importance of clean renewable sources of energy. The Solar Christmas Tree is located at the Jones House on 604 W. King St. in downtown Boone. The lighting takes place at dusk on Friday, Dec. 2, which is also First Friday. Enjoy the double benefit of a holiday edition of art, street performers, and complimentary refreshments at downtown Boone gallery and merchant locations.

Annual Downtown Boone Christmas Parade

On Saturday, Dec. 3 at 11 a.m., the 2016 Downtown Boone Christmas Parade travels through downtown with holiday spectacles and surprises, including marching bands, Nutcracker characters, and an appearance from Santa himself, followed by an after-party at The Jones House Community Center with complimentary cookies and cider for all.

An Appalachian Christmas Concert

This free annual concert of traditional Appalachian holiday music takes place on Saturday, Dec. 3 at 7:30 p.m. at Grace Lutheran Church. Donations benefit a local shelter (the Hospitality House), and Santa's Toy Box.
Weekend of Dec. 9:
The Schaefer Center for the Performing Arts hosts Studio K, a local youth ballet company, as the stage transforms into a magical world where the beloved holiday ballet, The Nutcracker, comes alive. Entering its 15th year as one of the most popular High Country holiday traditions, Studio K's The Nutcracker will feature 300 local dancers dancing to the music of Tchaikovsky in more than 400 costumes. Show times are on Saturday, Dec. 10 at 2 p.m. and 7 p.m.

Enjoy a weekend of winter fun at Sugar Mountain Resort on Saturday, Dec. 10 and Sunday, Dec. 11. Ski and snowboard enthusiasts are invited to demo the latest and greatest gear from top manufacturers. In addition, ski and snowboard clinics, live bluegrass music, fireworks, a hot chocolate and whipped cream bar, and many more fun activities will entertain all ages!
"Winter in the mountains is a magical time, and Boone is the ideal place to kick off the holiday season and make lasting memories," said Wright Tilley, executive director of the Watauga County Tourism Development Authority. "There is something for everyone to enjoy from our downtown shops, to seasonal performances and dining, to the area's three ski and snowboard resorts."
For a complete list of seasonal events in Boone, visit www.exploreboone.com/things-to-do/events/ or call the Watauga County Tourism Development Authority at (828) 266-1345 to get tips for making holiday memories.

About Boone, North Carolina
The town of Boone, founded in 1872 and named as tribute to legendary frontiersman Daniel Boone, is the cultural and economic hub of northwest North Carolina. Nestled in the High Country region of the state, this thriving mountain town is the county seat of Watauga County and home to Appalachian State University. Located 3,333 feet high in the Blue Ridge Mountains, Boone encompasses a vibrant arts community, bustling tourism industry, and numerous outdoor pursuits. Step outside yourself and find your adventure. Visit www.exploreboone.com and join in the conversation on social media with #ExploreBoone.

# # #