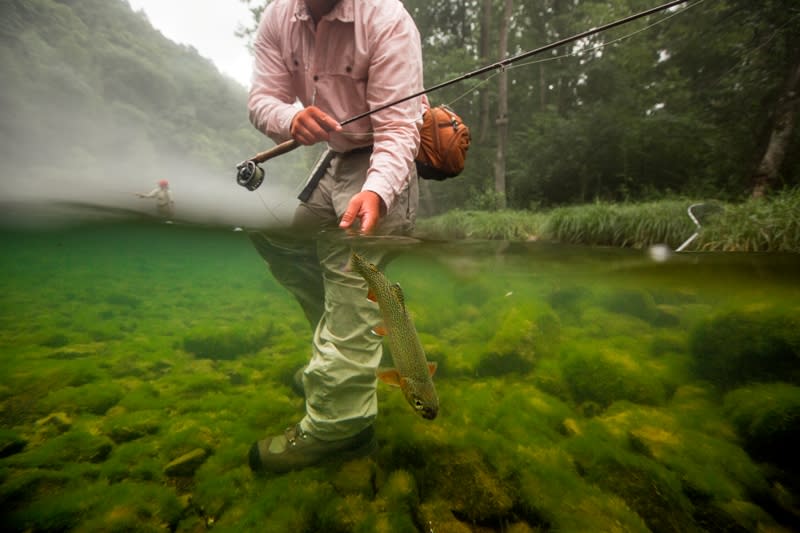 BOONE, N.C. (FEB. 20, 2017) - Boone, North Carolina is the Southeast's best kept secret for the popular sport of fly fishing. Nestled in the Blue Ridge Mountains, the greater Boone area's miles of scenic rivers and streams are among the best for experienced and beginner anglers in search of trout.
March kicks off the beginning of catch-and-release fly fishing season, which runs through the first Saturday in June. This period is the ideal time to fish, as it tends to not be weather-dependent. Each year, travelers come from across North Carolina and surrounding states for a memorable experience of wading in the rapids and casting from the shore. This adventurous outing provides a fun, unique experience for the entire family.
The Boone area is home to many professional outfitters that can take visitors on a guided fly fishing trip. These outfitters provide all equipment and transportation. Full-day trips (eight hours) include lunch, snacks, and drinks, while half-day trips (four hours) include snacks and refreshments. The outfitters below are currently offering a 10% discount for a guided tour for visitors during the month of March (subject to availability; please call directly to make a reservation):

• Due South Outfitters, (828) 355-9109

• Fish Goat Guide Service, (828) 406-2429

• High Country Guide Service, (828) 263-2638
Other outfitters in the area can be found here.
"Sixty percent of people we take on guided tours have never held a fly fishing rod before," says Patrick Sessoms, owner and head guide of Due South Outfitters guide service and fly shop. The business is the winner of the 2017 Best of the Blue Ridge Fly Fishing Outfitter, while Sessoms was named Best Fly Fishing Guide. "We love taking visitors to the area's best fishing spots, teaching them how to fly fish, and ultimately turning more and more visitors into passionate anglers."
In North Carolina, Mecklenburg and Wake counties, home to Charlotte and Raleigh respectively, have the most trout fishing licenses of any other area in the state. Therefore, these areas have a large angling population, and typically many residents of these counties are among those visiting the Boone area to enjoy their sport every spring at their leisure as well.
Located in the heart of North Carolina's picturesque High Country, the Boone area offers visitors a wide variety of outdoor adventures, as well as a vibrant arts and foodie scene. After a day spent fly fishing, take a hike on any of the scenic trails along the Blue Ridge Parkway, grab a craft beer from one of the local breweries, or browse the shops along downtown Boone's King Street.
About Boone, North Carolina
The town of Boone, founded in 1872 and named as tribute to legendary frontiersman Daniel Boone, is the cultural and economic hub of northwest North Carolina. Nestled in the High Country region of the state, this thriving mountain town is the county seat of Watauga County and home to Appalachian State University. Located 3,333 feet high in the Blue Ridge Mountains, Boone encompasses a vibrant arts community, bustling tourism industry, and numerous outdoor pursuits. Step outside yourself and find your adventure. Visit www.exploreboone.com and join in the conversation on social media with #ExploreBoone.

# # #