The air is crisp, the views are awe-inspiring, and the leaf color is stunning – welcome to autumn in the Boone area! Due to the range of elevations nearby, visitors are treated to a cascading canvas of vibrant hues that last for weeks; from the mile-high peaks at Beech and Grandfather to the charming valley in which downtown Boone is situated. 
With a refreshing breeze to your back and breathtaking colors all around, there's no better setting to explore fall festivals, lively Oktoberfests, picturesque leaf-peeping spots, and bustling farmers' markets.
---
✓ Pick Out the Perfect Pumpkin
Embarking on a mountain getaway in the fall isn't complete without a visit to a pumpkin patch or corn maze. Immerse yourself in the beauty of western North Carolina as you navigate through twisting cornstalks or handpick the perfect pumpkin amidst the vibrant landscape. 
Be sure to check on availability and hours before venturing out to these nearby farms:
✓ Celebrate the Harvest at a Farmers' Market
Embark on a sensory journey as you wander through local vendor booths offering the best of the season's bounty, whether it be crisp mountain apples, vibrantly-colored gourds, or seasonal handcrafted decor. With three weekly markets in the area and a plethora of produce stands throughout the county, there's no better way to connect to the community's rich agricultural traditions.
Event Add-on:
Join the Blue Ridge Women in Agriculture on October 8th for the High Country Farm Tour. Build your own route and engage with local farmers who welcome you into their farmstead and share their passion for feeding our community in a sustainable, healthy manner.

✓ Raise a Stein at Oktoberfest 
Oktoberfest echoes Boone's communal spirit and joy of embracing life's simple pleasures from the first sip of rich, hearty beers to the joyful laughter that echoes through the crowd. Savor a diverse selection of award-winning craft beers hailing from the High Country by indulging in one (or all) of the Oktoberfest celebrations in the area:

✓ Soak in Fall Color
In Boone, the enchanting foliage of the fall season can be enjoyed in a plethora of ways. While the Blue Ridge Parkway tends to draw substantial crowds this time of year, numerous other scenic routes exist and even parallel the Parkway, providing an escape from the congestion.  If you're up for some thrill, imagine ziplining through the trees or tackling ropes courses while soaking up views available only to the daring. Need more leaf-peeping tricks up your sleeve? Check out our blog for some seriously unique fall color escapades.
✓Stay Warm with a Seasonal Spirit
Behind the bar at many of Boone's local favorites exists a seasonally rotating mixology wonderland. Whether it's an autumnal twist on a classic cocktail or an entirely new potion that's been crafted for the season, visitors will enjoy a dash of Appalachian charm in every sip. For the adventurous, stop by The Cardinal to enjoy unbridled bartending creativity in a casual, family-friendly setting. For those with low-key sophistication in mind, the downstairs wine cellar at Venture offers a delightfully curated wine and whiskey list to pair with artisanal cacao creations. Or, keep it light at one of our area wineries or breweries, all of which have lovely outdoor spaces to soak in the dazzling colors of the season. 
Alcohol-free?
No worries! Mocktails are offered alongside cocktails at many upscale venues throughout the area, including The Cardinal and The Beacon. Avoid the nightlife altogether and start your day with a festive caffeinated concoction at one of Boone's many coffee shops. Pumpkin spice latte lovers, rejoice!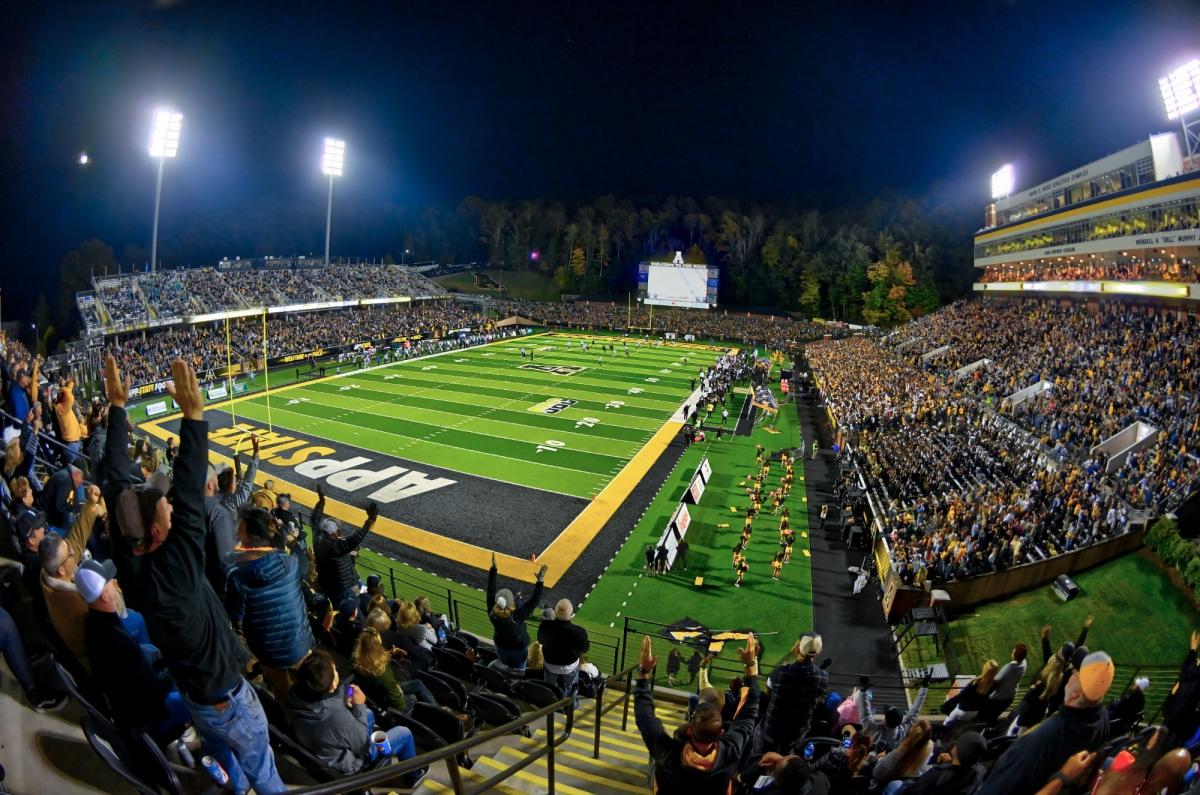 Photo Courtesy App State Athletics
✓ Cheer on the 'Neers
The Appalachian State Mountaineers, that is. Attending a home football game means immersing yourself in traditions that have been cherished for generations. From the iconic pre-game march to the heartwarming alma mater, these rituals connect you to the rich history of Appalachian State and its unwavering spirit. And here's the kicker: Kidd Brewer Stadium sits a mere 0.6 miles from King Street, right in the vibrant heart of Downtown Boone. Plan ahead with ease using our guide to Game Day Planning.
✓ Make Memories at a Fall Festival
As the leaves transform into a mesmerizing palette of reds and yellows, the High Country hosts a series of celebrations that capture the soul of the season. On the first Friday in October, street performers, musicians, and artists will unite along King Street for Buskers Fest, a celebration of our creative community and a nod to Boone's busking heritage. With a picturesque mountain valley as its backdrop, the Valle Country Fair invites visitors to step into an authentically Appalachian celebration where community, craftsmanship, and culture intertwine in the historic community of Valle Crucis. Finally, the popular Woolly Worm Festival in nearby Banner Elk is a whimsical autumn celebration that centers around the quirky and charming woolly worm caterpillar.
Event Add-on: 
Tweetsie Railroad's Ghost Train is a family-friendly event that transforms the historic attraction into a spooky wonderland, featuring a ghostly train ride through the haunted Blue Ridge Mountains. Visitors can expect an array of spooky attractions, ghostly performances, and eerie entertainment, making it a perfect destination for visitors of all ages seeking Halloween thrills and memorable family adventures in a picturesque mountain setting.
Photo Courtesy Tweetsie Railroad
---
Boone, NC is your gateway to fall frolics, be it hiking along trails painted in fiery hues, snapping Insta-worthy pics at pumpkin patches, or savoring the crisp air at a fall festival. But here's the catch: cozy cabins are vanishing faster than leaves in the wind. Secure your fall escape now and make sure your haven is ready before they all disappear.