The first day of fall in the Boone area is also the home opener of ASU Mountaineer Football! Fans start the celebration early with Friday evening's Touchdown Boone at The Jones House in downtown, and fall fanatics everywhere thrill at the launch of the annual Ghost Train weekends at Tweetsie Railroad. Read on for more ways to jump into fall in Boone!
Fall into fall fun in Boone
The annual Ghost Train festival opens this weekend! Ghost Train runs 7:30-11:30 p.m. on weekends, Friday and Saturday nights only, through the end of October. Prepare yourself for fun and frights with the Freaky Forest, Haunted House, Halloween Shows on Main Street, and much more! Tickets must be purchased in advance.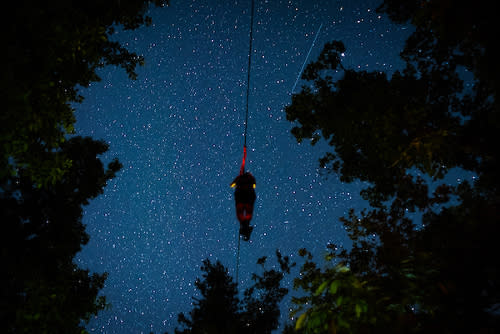 Zip Line under the Starry Skies - Night Flight is the new program Sky Valley Zip Lines opened for 2018! Night Flight is only available every two weeks, on Friday and Saturday nights, through the end of November. On September 21 and 22, fly through the trees and under the stars for one-and-one-half hours. End your Night Flight with a cliff "fall!"
Check out our recent blog post about Boone's Best Pumpkin Farms and Corn Mazes.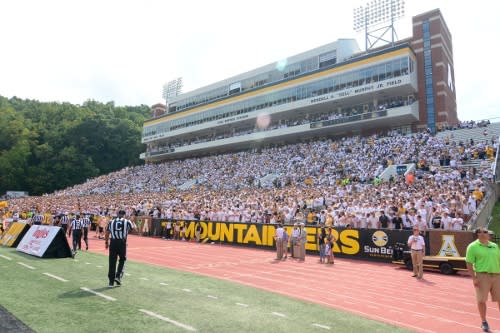 Cheer on the home team!
Score like a true Mountaineer during Touchdown Boone from 5 - 8 pm on Friday, September 21 at The Jones House Community Center in downtown Boone. Get all your gameday information and tips on parking, tailgating, gameday apparel, and supplies.
ASU Mountaineers take on the Gardner-Webb Bulldogs on Saturday, September 22 at 3:30 pm in Kidd-Brewer Stadium. It's also Heroes Day, when at halftime ASU honors Purple Heart recipient Brian Stokes ('08), and former offensive coaches Rob Best, Shawn Elliott and Stacy Searels, who were presented with the NCAA Award of Valor.
Rally for the men's soccer team Saturday night at 7 pm as they go up against UNCG. And, on Sunday, pull for lady Mountaineers in their field hockey match against Louisville at 11 am at Adcock Field.
Join ASU in celebrating 50 years in women's sports.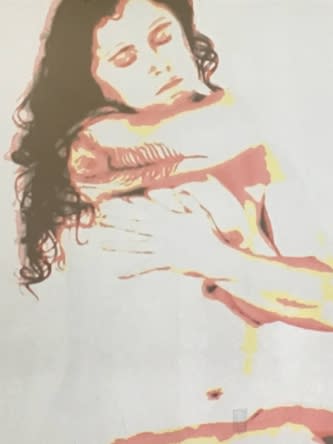 Experience Visual and Performing Arts
BOLO, Boone's Fringe Fest, runs September 20-22, with six different solo performances at three locations in downtown Boone: 3rd Place, HOW Space, and Neighborhood Yoga. 
Yart Supply Sale, Sept 22 at 12-5pm, Watauga County Arts Council, 377 Shadowline Drive
Exhibits at the Turchin Center for the Visual Arts, at 432 W. King Street, open Fri 12-8, and Sat. 10-6.
Sustained Ingrain: Contemporary Woodcuts from East to West 
The Persistence of Weeds: Hannah Cole (paintings)
The Elephantine in the Anthropocene: Kelsey Merrick Wagner (sculptural paintings)
Art from Down Under: Australia to New Zealand (works in various mediums by 32 artists from New Zealand and Australia)
The Broken Fragments of My Heart: Rachel Stevens (sculptures containing fragments of the forest)
Liven Up with Live Music
Enjoy an intimate performance by Rakish, with Maura Shawn Scanlin & Conor Hearst, September 22, 7:30 pm, at The Jones House Community Center. Fiddler and Boone native Maura Shawn Scanlin and Boston-based guitarist Conor Hearn unite to form the duo Rakish. They perform a unique take on traditional Irish and Scottish fiddle tunes and songs.
Workshop with Rakish: On Sept. 22, prior to the concert, the duo will lead a workshop at 4:30 pm on Traditional Celtic ensemble playing with a focus on group arranging and accompaniment. All instruments are welcome - fiddles, guitars, and other string instruments are especially encouraged. The workshop is free for concert attendees.
Find the Locals' Favorite Brews and Wines, Farmers Markets, and Food Trucks
The Boone area is home to a popular vineyard and five breweries. Grandfather Vineyard and Winery boasts a lovely tasting room and patio overlooking the rows of grapevines and the banks of the Watauga River. Grab a seat, share a bottle of wine with your bestie, and enjoy some live music on the patio!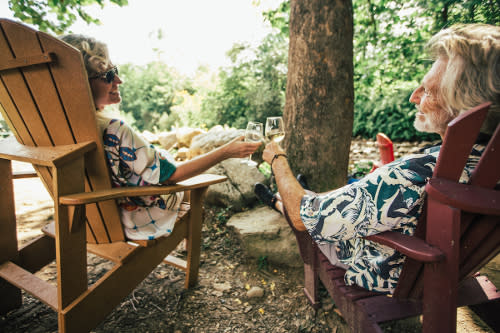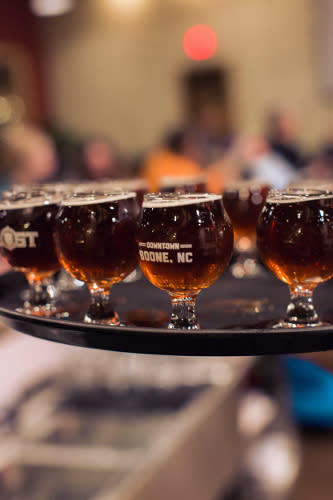 Check out our article on Boone area breweries where you'll be inspired to tour the High Country in search of craft brews.
Find the freshest take on local food at the Watauga County Farmers Market, on Saturday, 8 am - noon, offering the area's finest selection of quality produce from local growers, as well as seasonal fruits and berries, local jams, jellies, and honey. You can also find artisan breads, cakes and pastries, farm-fresh eggs, aged goat cheeses, locally farmed meats, herbs, fresh-cut as well as dried flowers, wreaths and arrangements, all while accompanied by live music featuring local musicians. Farm to Flame wood-fired pizzas and Betty's Biscuits are two of the food trucks at the Farmers Market each Saturday.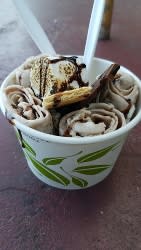 Check out more food truck schedules: 
When you're ready to plan your stay, visit the 
Boone area lodging page
 for a list of Bed and Breakfast inns, modern hotels, cozy cabins, and luxury retreats. For more information on these events and more, visit our online 
Calendar of Events
.