This week in the Boone area, Chetola's Festival of Lights continues and becomes the backdrop for the four-day Blowing Rock Winterfest in the village of Blowing Rock. Concurrently, the 50th Anniversary of Beech Mountain Resort will take place at the highest ski area in eastern America.
Winterfest offers tons of fun events for all ages, from the Polar Plunge into Chetola Lake (Saturday 9-11 a.m.) to bonfires and s'mores (nightly); Wintercraft Outdoor Handmade Market; Ice Carving demos by one of only five Master Ice Carvers in the nation, Travis Dale; Jazz at Green Park Inn's Chesnut Grille; Shop till You Drop each day until 5 p.m.; wine-and-art for adults, or kids' art or hands-on-ice-carving workshops; wine dinners in both Blowing Rock and Boone; live music and nightlife; hayrides; silent auction; ice skating in Memorial Park; chili cook-off; beer garden; wine tastings; Winterpaws pet contest; and more!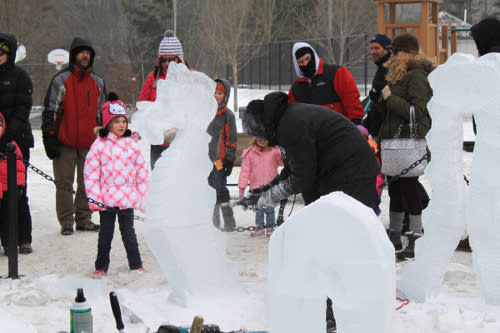 When Beech Mountain Resort opened in the winter of 1967-68 as the highest ski slopes in eastern America, it ushered in a new era for Southern skiing, providing a complete resort experience centered around an alpine village. Since then, the resort has continuously improved its snowmaking abilities and guest facilities and added a state-of-the-art snow tubing park.
Beech Mountain Resort will honor its milestone ski season with a four-day 50th Anniversary Celebration, featuring live music, fireworks and a DJ (Saturday night), craft beer, a stein-holding contest with prizes, a themed trivia night, and the Great Cardboard Box Derby a beloved annual tradition, as the Sunday finale.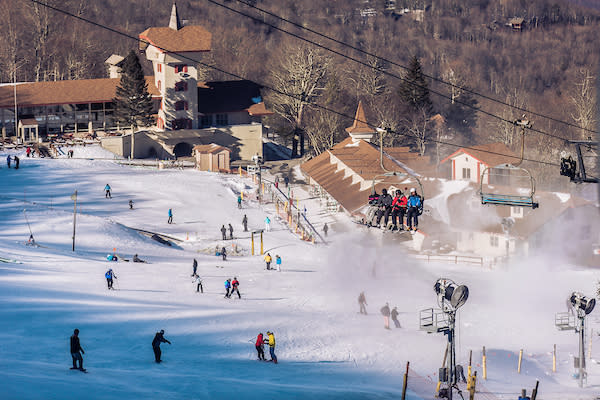 Appalachian Ski Mountain will hold the Skier/Boarder Cross Races on Saturday and Sunday, January 27 and 28. A $40 entry fee plus annual USASA membership is required. Experience a safe, fun and professional event series. Lots of prizes, plus raffles, and great food will round out the fun, and of course the chance to qualify for the USASA 2018 National Championships in Colorado this March! 
Registration is in the upstairs breezeway of the App Ski Mtn. lodge from 8:30-11 a.m. Riders meeting is at 11:30 with course practice until 12:45. The event starts at 1:00. Cheer them on from the Observation Deck! There will be two races each day. Awards will be announced at 4:30 in the Snowcloud Room or outside. Medals are awarded for the top 3 finishers along with lots of prizes and a Snowboard Raffle each day!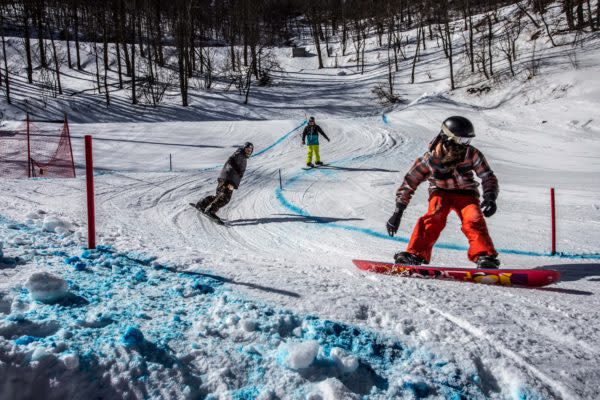 After your day on the slopes, check out other activities to do with your family or your fellow snow buddies. Check out area nightlife on our Facebook Page Events tab. About USASA Southeastern Series: Following the January 20th races at Beech Mountain, the Skier/Boarder X racing event at App Ski Mtn. is the second racing event of the seven-event Southeastern USASA Snowboard and Freeski Series. The series is open to skiers and snowboarder of all ages and ability. Southeastern USASA Series also includes upcoming races at Massanutten and Ober Gatlinburg. There are 32 USASA series with more than 500 races happening across the country, all leading up to the 2018 National Championship races at Copper Mountain, Colorado, March 30-April 11.