Photo courtesy of Sugar Mountain Resort
Major improvements at N.C. ski slopes set to greet skiers and snowboarders for the 2019-2020 ski season
Boone area ski resorts have had a busy summer implementing the addition of new equipment in snowmaking, chairlifts, lighting, and more. At the end of October came a true cold snap and even snow flurries, with temperatures allowing for immediate snowmaking. Even with current temperature fluctuations, area resorts project opening day will be by Thanksgiving weekend, if not before. The season typically runs through late March.
Lessons first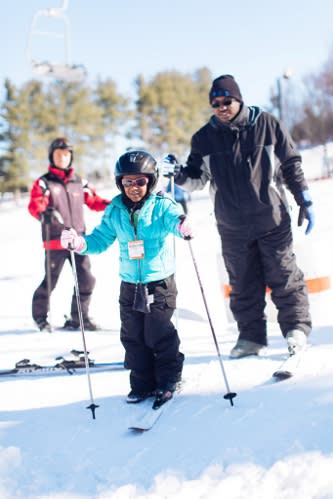 French-Swiss Ski College is celebrating its 50th anniversary. Having taught more than one million skiers and snowboarders since 1969, French-Swiss is "the best ski school in the Southeast." Founder Jim Cottrell recommends a total of three lessons, one per day, for the most solid foundation in acquiring a new snowsport skill for life. An afternoon of fun practice is advised after each lesson. After three days, students are well on their way to soon leveling up to intermediate and more difficult terrain. This same method applies to intermediate athletes wanting to level up, too.
Each of the area ski resorts has a top-notch ski school, so take time to properly learn the skills necessary for skiing and snowboarding. 
Slope updates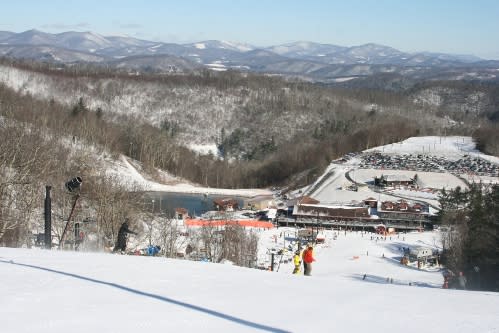 Appalachian Ski Mountain:
"We're excited about the coming season at Appalachian Ski Mountain," marketing director Drew Stanley said. "Numerous projects kept us busy this summer and fall." 
Appalachian Ski Mountain (ASM) bolstered snowmaking on Appaljack Freestyle Terrain Park, as well as on intermediate slopes Orchard Run and Strudel, and the base area, further enhancing the excellent coverage, base depth, consistency and quality snow conditions ASM is known for.
A new Park Pro snowcat by innovators, Pisten Bully, joins the existing fleet of terrain park and slope groomers optimized for snowboard park creation.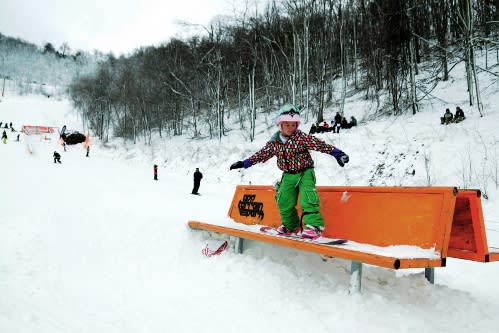 Also new at ASM is additional road maintenance equipment, lined up to keep the parking lots clear as well as maintain private roads to slopeside lodging.
This month, ASM will equip the base lodge with a new computer guest registration system featuring more than 20 kiosks to speed up the rental and ticket sales process. New flooring and additional device charging stations further enhance convenience and comfort for guests of the Bavarian-style lodge.
Expanding their operating days and hours, ASM offers a Christmas Day slope session from 1 - 10 pm as a fundraiser for a new Ski Patrol First Aid facility on site. And, for the lovers of late-night jumps and slalom, Midnight Blast Weekends are back - beginning Thanksgiving weekend and running all season long. Additional special Midnight Blasts are slated for the following holidays: December 26-30, Martin Luther King Sunday and Presidents Weekend Sunday.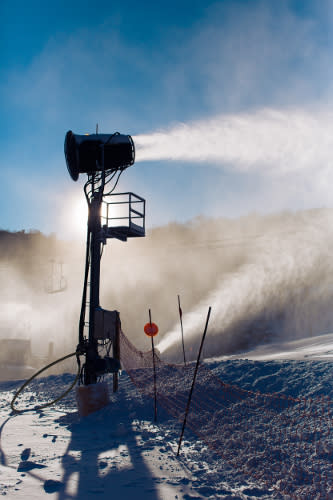 "Snowmaking is the backbone of our business," resort general manager Ryan Costin said. "We're always focused on ways to increase output so we can maximize snowmaking opportunities."
Improvements in the capacity of water lines, air lines, water reservoir, armored electrical cable, and new high-tech SMI fan guns and tower guns means a huge expansion of the pumping operation at Beech Mountain.
A completely renovated pump house will contain the new Torrent Pump Skid which automatically engages more pumps when a great number of snow guns are active. Approximately 6,500 feet of new water and airlines (ranging from 12 to 24 inches in diameter), the expanded water reservoir, and the beefed-up electrical cable network promise the ability to maximize snow output in shorter periods of time.
Night skiers and snowboarders at Beech Mountain will appreciate the 17 new light towers as well, featuring a total of 34 state-of-the-art LED slope lights.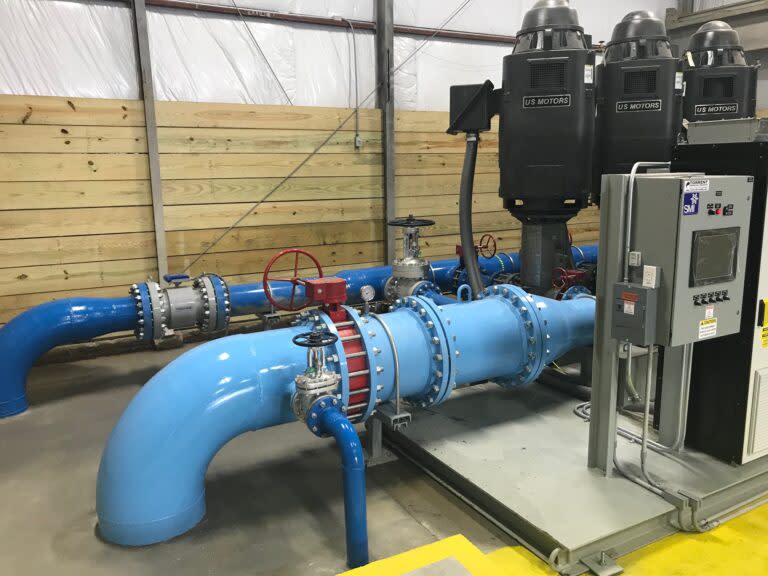 Fifty years of operation is quite the occasion. In mid-December, during the annual SugarFest, Sugar Mountain Resort will debut a documentary covering five historic decades. On the morning of Saturday, December 14th, the celebration continues with a ribbon cutting for a new, four-passenger, high-speed chairlift by Doppelmayr, on a beginners' favorite slope, Easy Street. The new chairlift cuts travel time from six minutes to two-and-a-half minutes, and increases the Resort's overall uphill capacity from 10,518 passengers per hour to 11,270.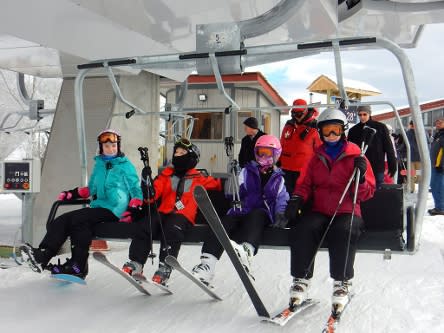 Sections of Easy Street were widened during summer of 2019. The trail also will see increased snowmaking capacity thanks to the recent addition of yet another new, high-efficiency, and fully automatic snowmaking machine.
Early season events
Appalachian Ski Mountain will hold its annual Anniversary Weekend, always the first weekend in December. Lift ticket prices roll back to 1962 rates at $5. This year's event is slated for December 7th and 8th.
Beech Mountain Resort will offer weekday pricing daily from Saturday, November 23rd to Friday, December 13th.
Olympian Andrew Weibrecht returns once again during SugarFest to facilitate the 24th annual three-day Preseason Ski Clinic, December 13-15. Participants can enjoy daily coaching with Andrew and other notable Sugar Mountain staffers. Lift tickets, video analysis, and a Friday night dinner are included. Visit www.skisugar.com for more information.
Lodging information
When planning your ski vacation, a wide range of accommodation types in a variety of Boone area locations is available on our Hotels & Cabins page. For slopeside lodging opportunities, please consult the information/reservations department at each ski slope listed above and on our Winter Sports & Activities page. For a list of things to do with your family après ski, please see this blog article.