Cover Photo: Sunrise At Caldwell Community College In Boone By Hope Thingelstad
As the former Running Back for Appalachian State University's football team, Camerun Peoples spent four years getting to know and love the Boone area. When he wasn't on the gridiron driving the ball toward the end zone, Cam was driving on the Blue Ridge Parkway, recovering at a scenic overlook, exploring an awesome waterfall spot, and sampling the delicious local cuisine. Read more about Camerun's favorite hidden gems in his exclusive interview with Explore Boone below. 
Start your day like the "Peoples" Champ
If you're up early enough to catch the sunrise, you're in for a treat. Where's the best place to catch a sunrise in Boone?
There is a spot in the parking lot of Caldwell Community College that's breathtaking for sunrise and sunset! You look out over the hillside and it's one of the best views in town!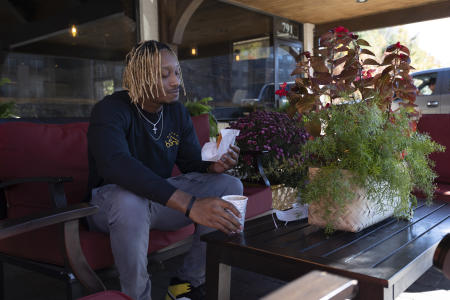 Nothing starts the day like a nice cup of coffee. Where's your favorite place to go to put a little pep in your step and why?
The Local Lion has super good coffee!
You're waking up after a long day outdoors and a night on the town. What's the one place you can go to for a meal that will keep you energized all day long?
There are a few good options! But, what comes to my mind is Troy's Diner! They have amazing options for both breakfast and lunch.
Camerun's Favorite Boone Eats
Let's be honest. Even the most elite athletes suffer from a sweet tooth from time-to-time. Where are you going when that sweet tooth kicks in?
Blue Deer Cookies or Ben & Jerry's are undefeated! Both are (downtown) on King street!
When the sun starts to set over the Blue Ridge Mountains, what are some of your go-to dinner spots in Boone?
One of my personal favorites is Makoto's Japanese Steakhouse and Sushi because I love hibachi!
What's one hidden gem you wish you had known about sooner?
There is this absolutely amazing restaurant called The Gamekeeper. I went there over the summer and it was such a nice environment! There is valet parking and really exotic food that tastes second to none! If you're looking to take a date night out and want to get fancy, this is the place to go! Call ahead and get reservations because they are THAT GOOD!
Must-see places around Boone
You have the afternoon with your friends to spend time taking in the mountain air. Where are you going for some fun and adventure outside?
Either going for a ride on the Blue Ridge Parkway or going to Trash Can Falls (also known as Laurel Creek Falls, pictured below)! 
Shopping is always in the playbook in Boone. What are some of your favorite places to pop into while you're strolling along King Street in downtown Boone?
Appalachian Antique Mall has some unique stuff, Anna Bananas and Mast General Store are also some great choices to look for some cool things!
Looking for more great shopping? Check out the Boone Area Shopper's Sojourn 
Tips for Exploring "Trash Can Falls" or Laurel Creek Falls 
Find directions to the falls here: Laurel Creek Falls
Be sure to park completely off the road in the gravel parking area.
Cross the road carefully. The path starts on the opposite side of the parking pull-off, only a few yards downstream. The trailhead is unmarked, but heavily trafficked and visible.  
Bring water shoes, the rocks are very slippery! (Chacos and Tevas are the go-to brands for locals)
Fun Fact: The spot is colloquially referred to as "Trash Can Falls" because there used to be a dumpster near the parking area and trailhead. Be sure to pack out anything you bring with you, since there is no longer a waste receptacle there.
If the parking area is full, there are nearby alternatives like Upper Watauga Gorge Park (2531 Old Watauga River Rd.) which also has a covered picnic shelter and Lower Watauga Gorge Park on Guy Ford Road where visitors can relax on a handicapped friendly riverside beach-like area.