Polar Plunge emcee and WBTV co-anchor, John Carter, speaks with Skip Sinanian of Boone Saloon before he jumps into the icy water of Chetola Lake. 
Selected by the Southeast Tourism Society as a Top 20 Event in the Southeast, Blowing Rock Winterfest returns this January 24-27. The four-day event is now in its 21st year and encompasses a wide variety of spots in downtown Blowing Rock, offering every member of the family many ways to celebrate winter at any age.
So, how many ways can you celebrate winter?
Celebrate by Feasting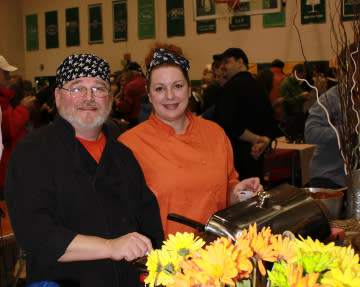 Who doesn't like to dine on specialties of the season? Although the Thursday opening-night event, WinterFeast, is sold out, there are more ways to feast throughout the weekend.
Start with an All-You-Can-Eat Pancake Breakfast at Sunny Rock on Friday and Saturday mornings, 7:30 a.m. till 1:30 p.m. And, don't miss the Sunday Brunch at Sunny's sister restaurant, Foggy Rock, with Winterfest cocktails and sangria from 11 a.m. till 3 p.m.
Dine accompanied by the sounds of Todd Wright Trio during Jazz at Winterfest events at Green Park Inn on Friday and Saturday nights, 6:30-9:390 p.m. and enjoy a special Winterfest menu.
Vote with your dollars and your taste buds during the famous Chili Challenge at Blowing Rock Elementary School on Saturday, 11:30 a.m. till 2 p.m. Admission charge. Bring cash bills to vote for (tip) the best chili!
Warm Up with Winter Beverages 
Bring your "will to chill." Relax, Sip and Stroll your way through this winter-friendly town on Friday from 4 till 7 p.m. Stop in at shops along downtown sidewalks for free wine tastings within.
Each evening during Winterfest, 7 till 10 p.m., show up to Chetola Resort for gourmet s'mores packets (fee), and Winterfest drink specials at the cash bar. Roast your s'mores over the firepit by the shore of Chetola Lake. Enjoy live music, or storytelling, appropriate for the whole family.
On Saturday afternoon, 1 till 4 p.m., step into the Winterfest Beer Garden at 333 Wallingford Avenue. Single beers are $5, and passes are $35, at the door. While here, cheer on the canine competitors of the K9 Keg Pull, and step inside the American Legion Hall to bid on some exciting silent auction items.
Tickets ($30) are still remaining for the Wine Tasting and Auction at Green Park Inn, Saturday. The tasting begins at 3 p.m. and the auction immediately follows at 5 p.m. Items include a SAVOR Festival (early May) ticket package, and much more.
Celebrate Winter Together
Don't hibernate from family! Blowing Rock Winterfest is the perfect opportunity for everyone to get out and get moving into something fun together.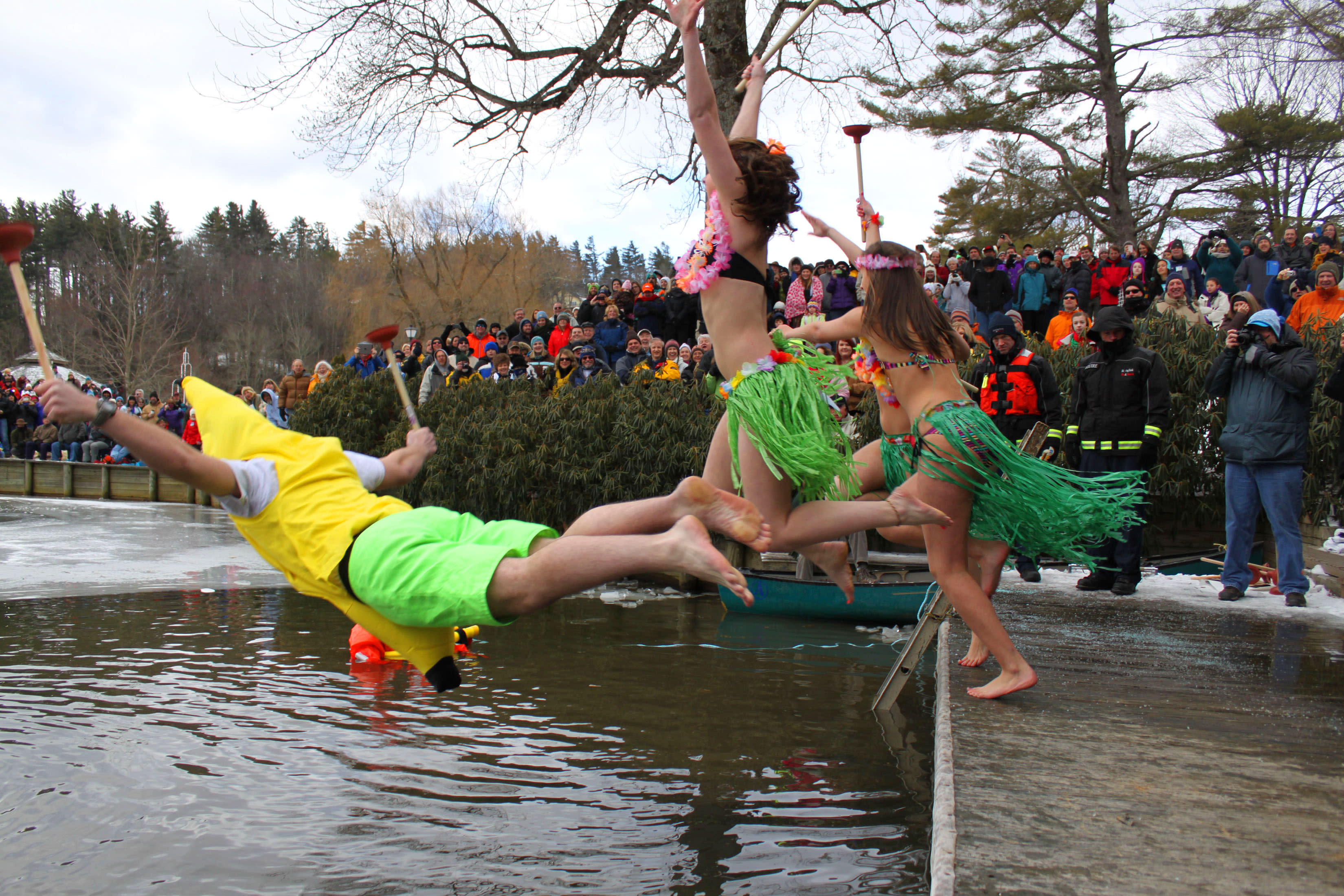 The premier event of Winterfest is the Polar Plunge at 10 a.m. on Saturday morning. Gather around to watch WBTV co-anchor, John Carter, emcee the brave "plungers" jump into the icy cold water of Chetola Lake. Dress for the weather and come prepared: pictures or it didn't happen! 
From Arctic Art & Crafts, to Hands-On Ice Carving, Snowmaking Demonstrations with WCNC Meteorologist, Brad Panovich, artisan ice sculptures by Master Ice Carvers, hayrides through town, the WinterCraft Handmade Market, and the WinterPaws Dog Show, there are plenty of fun things to do.
Other Winter Angles for Teens and Up
On Friday from 5 till 8 p.m., meet the millennial makers of the WinterCraft Handmade Market, an outdoor pop-up artisan show sure to have goods everyone can use or learn to craft. Host, The Mountain Thread Company, offers sewing and craft workshops year-round.
If too much family togetherness ever does become a thing, the teens in your group may enjoy a Friday or Saturday night theatrical performance of Almost, Maine: A Play for Romantics (PG13) at 7 p.m. at Harvest House in Boone. It's a romantic comedy brought to you by Beanstalk After Dark.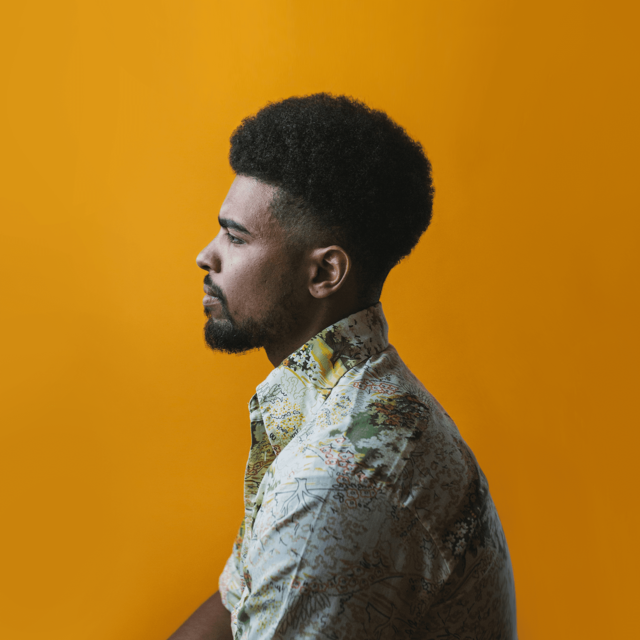 The 21-and-up crowd will likely jump at the opportunity to catch a live band during Beech Mountain Tap Room and Grill's Friday show with Brother Oliver, or the Saturday show with Devon Gilfillian. Catch some nightlife in downtown Boone, with live music each night, Thursday through Saturday, at Boone Saloon, The Local, and other popular venues. See our Facebook Events tab for more on these and other nightlife happenings.
On Sunday, just outside of downtown Blowing Rock, Appalachian Ski Mountain will be hosting the next installment of its Shred for the Cup Series: Big Air. All skill levels are welcome to compete for lots of prizes from sponsors Arbor and SPY Optics. Registration begins at 9 a.m. Sunday morning and the competition starts at noon. Spectators can view the action from the observation deck.
It's an exciting weekend and the perfect time to see why we say, "don't hibernate, celebrate!" Join in the fun during the 21st annual Blowing Rock Winterfest. For lodging information and more things to do, visit our lodging page at ExploreBoone.com.